I've been feeling horrible about blogging lately. I feel like the more blogs I read, the less awesome my life seems. I've been so busy with university lately and feeling so unmotivated in general, that the idea of posing for photos and critiquing myself in a public forum makes me feel a bit crap. Every blogger seems to have it down- the right balance in their lives, the most amazing wardrobes, the nicest cameras and the most lovely things to photograph and share. And my life seems to mundane in comparison- a full-time student living in a barely-standing house in suburbia, spending most of my time drinking beer and watching The Simpsons with my boyfriend. Ugh. I don't really know what to do about this silly jealousy- of course bloggers don't like to write about the bad things in life, the days they went thrifting and found nothing nice, or those outfit shoots that don't turn out right. There's just always an aspect of having a fashion blog that says 'look at what I've got and, ergo, you haven't'. Um. I don't really know where I'm going with this- possibly just appropriating rumours that fashion bloggers are a self-indulgent and narcissistic bunch.
Whoops.
Anyway.
Not only have I got a case of the blogger blues, but to add insult to injury I've had a couple of wee accidents lately-firstly, a fall off my bike onto some gravel, tearing through my brand new stockings and giving me some seriously grazed knees. The next day my senile old cat tripped me up as I walked down our hallway, and I bashed my elbow against one of our stainless steel door handles- ouch. I've got nerve damage to my arm (thanks a lot, Roger) and my fingers keep doing involuntary twinge-y things that spook me a bit. Needless to say, I'm full of painkillers right now.
Thankfully, said boyfriend is always there to make me feel a little better about myself. Through some cosmic twist of fate, we both had Tuesday off work, so we set out so visit a couple of second hand stores in North Canterbury, about an hour out of the city. One of the best things about Christchurch is the sprawl, and the little periphery towns that go with it. We picked Oxford and Amberly as our destinations, and we weren't disappointed. It was so lovely to get out of the routine of uni-work-essays that usually dominates my waking hours, and see more of the country.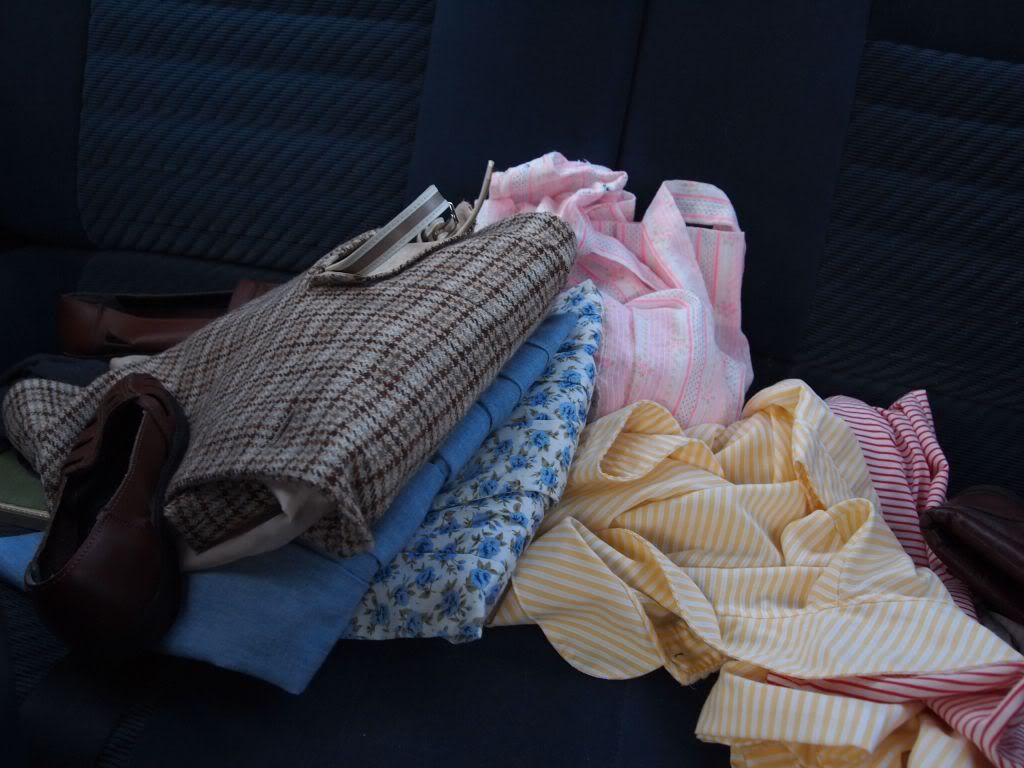 The opshops up North proved fruitful, and I slowly filled Logan's back seat with the most amazing things. One of my favourite finds was a trio- the amazing blue floral dress just down there, a sweet blouse and an embroidered chambray dress that I suspect were all from the same donor. They seem like the kind of things that a skilled grandma made for an ungrateful granddaughter, as they're beautifully handmade but have clearly never been worn. I'm glad I could take them on as my own.
Afterwards we stopped off at
Brew Moon
, the makers of our absolute favourite beers ever (and we drink a lot of beer, trust me). We got their sampler with a glass of each different beer, as well as a massive bowl of chips and two different kinds of cake... and we took away a 2-litre rigger of the Hophead organic pale ale, which tastes like apricots. So good!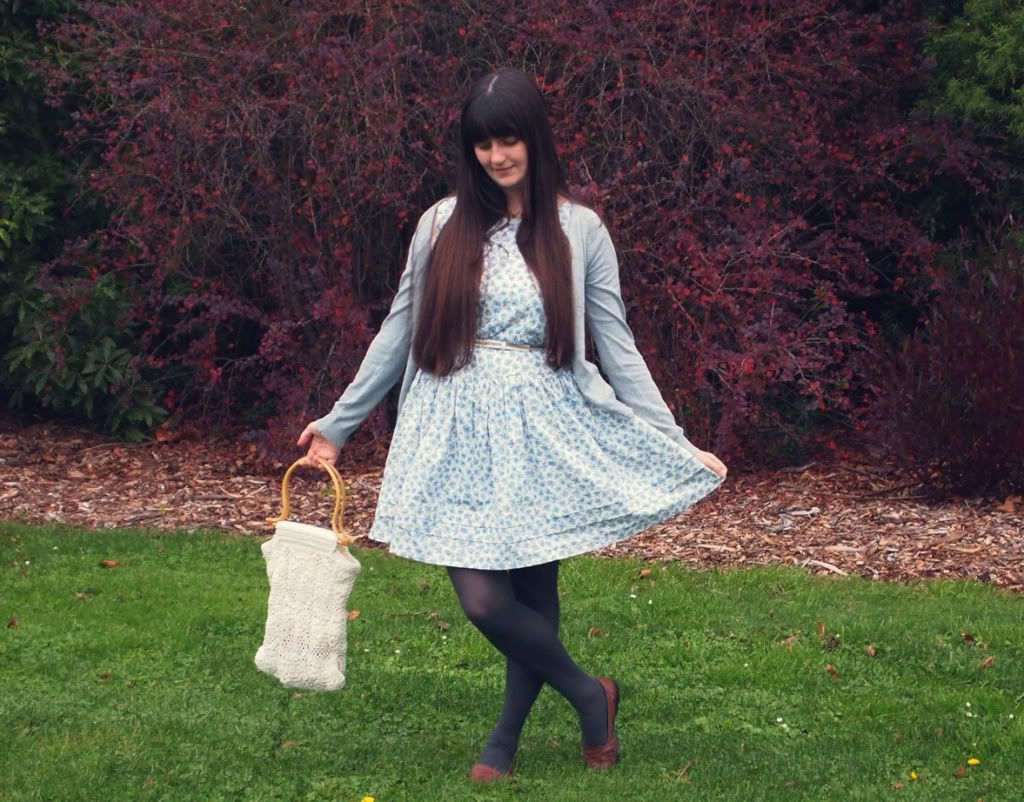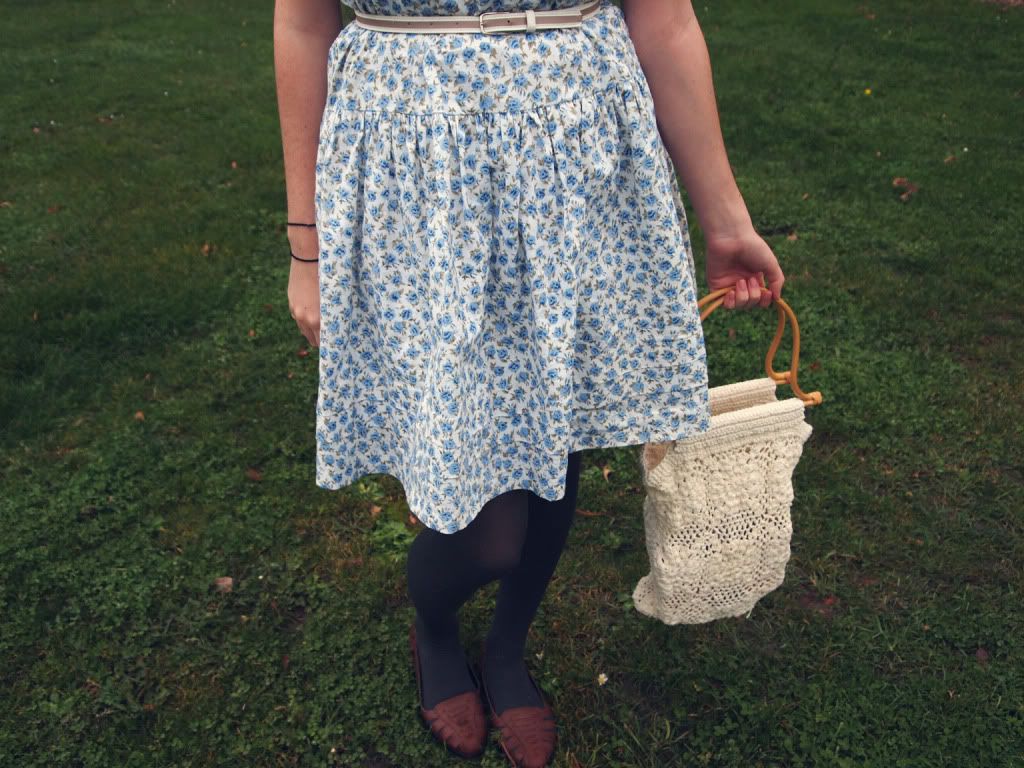 (Dress, belt and shoes all thrifted on my road trip, thrifted cardigan, tights from Myer ages ago and crochet bag from Trademe for $4, vintage necklace a present from my boyfriend.)
I threw this outfit together from things picked up along our little road trip. This dress, from the grandma collection, was an absolute steal at $1 from the best opshop ever. I love the horizontal pleated detailing on the hem! I only had $8 cash, or else I could've taken away a much more significant pile.
I'd also like to say thanks to the lovely ladies at
Ventricular Projects
for including me in their
dream wardrobes project
. Tricia and Carly are two seriously awesome babes, who are both committed to making and sharing the most excellent bits of art and culture. Check out the rest of their dream wardrobes if you want to feel some intense blogger envy!