(Wearing a thrifted kids 1960s peter-pan collar coat with velvet piping, 1950s leather school satchel from Trademe, 50s-esque dress I got made in Vietnam from vintage fabric, lilac floral knit cardigan from Trademe and black t-bar flats from Trademe)
Photos taken by the amazing
Kita
, at this cool little pathway full of natives we discovered at one of the many parks near our house. We pretty much live in the bush. There was a full-length one of my outfit but it was so terrible I chickened out.
The other day (actually over a week ago, but my card reader broke and I only just got a new one) Jack and I had use of another flatmate's car, so as usual I shirked my responsibilities as a student in favour of an opshopping trip around the Wellington bays. We had such good luck and left with a pretty huge haul, meaning I had to cram in the tiny backseat while our velvet rocking chair sat in the front.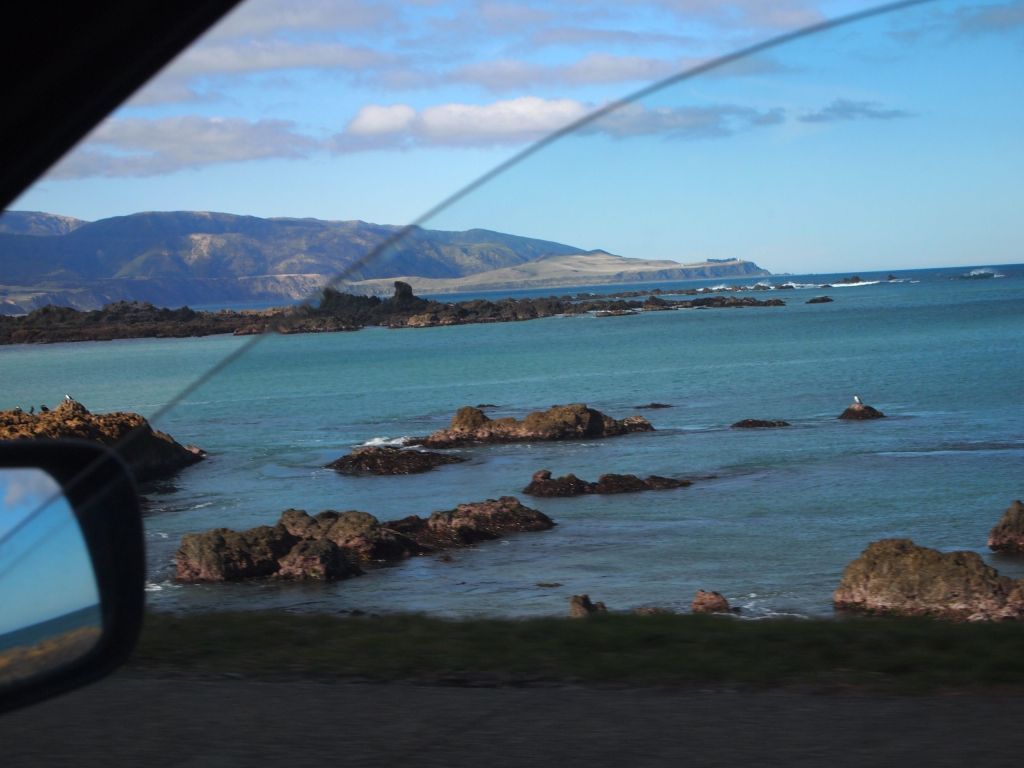 This chair is best thing we found all day, I think. We needed a chair to chuck our clothes on/fill a gap in our room, and this one was super cute and also it rocks. We got it from this weird, inexplicably-priced opshop in Miramar, where some things were super cheap and the others ludicrously expensive. The useless (the weights are in stone? Who understands stone? Edit:
OK, it turns out people in the UK use stone. I am an idiot.
) but cool-looking green Art Deco scales were $2 but there were New Zealand woolen blankets- I'm sure every Kiwi reading this has one on their bed, you know the kind- for $30 each. I found a cute little 70s Japanese ceramic gnome on a log that was $20. WHY? The scalloped oval mirror was a pretty good $4, perhaps because the rivets that held the mirror bit to its backing were coming away. Nothing a quick turn of the screw can't fix. Our walls are pretty much full so I've slotted it in behind our 'bookshelf' (coffee table wedged between the bed and wall) for now.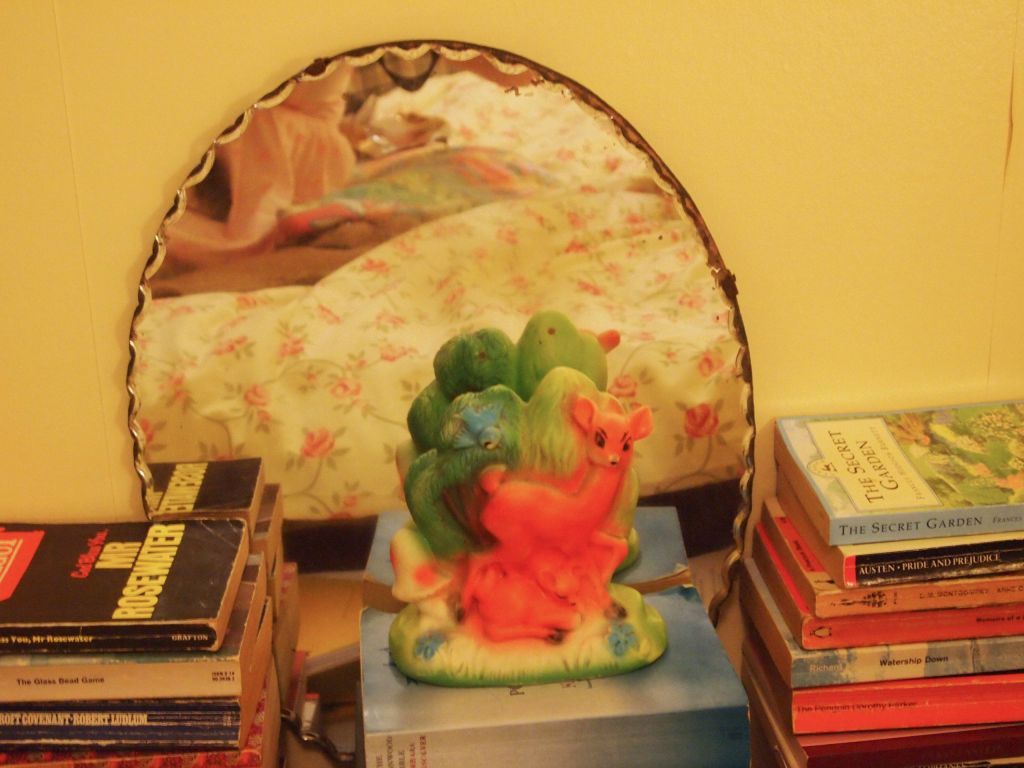 I always pick up these sheer pink swiss-dot ballet skirts when I find them. I was a ballerina for 12 years so I have a soft spot for them, we used to wear them for class when I was a kid. Also the awesome vintage Australian tablecloth I couldn't leave behind for $1. My flat doesn't even have a table. Nostalgia vs. practicality is a constant battle for me and I think it's clear which side generally wins. 'Useless but cool-looking' is pretty much my aesthetic outlook.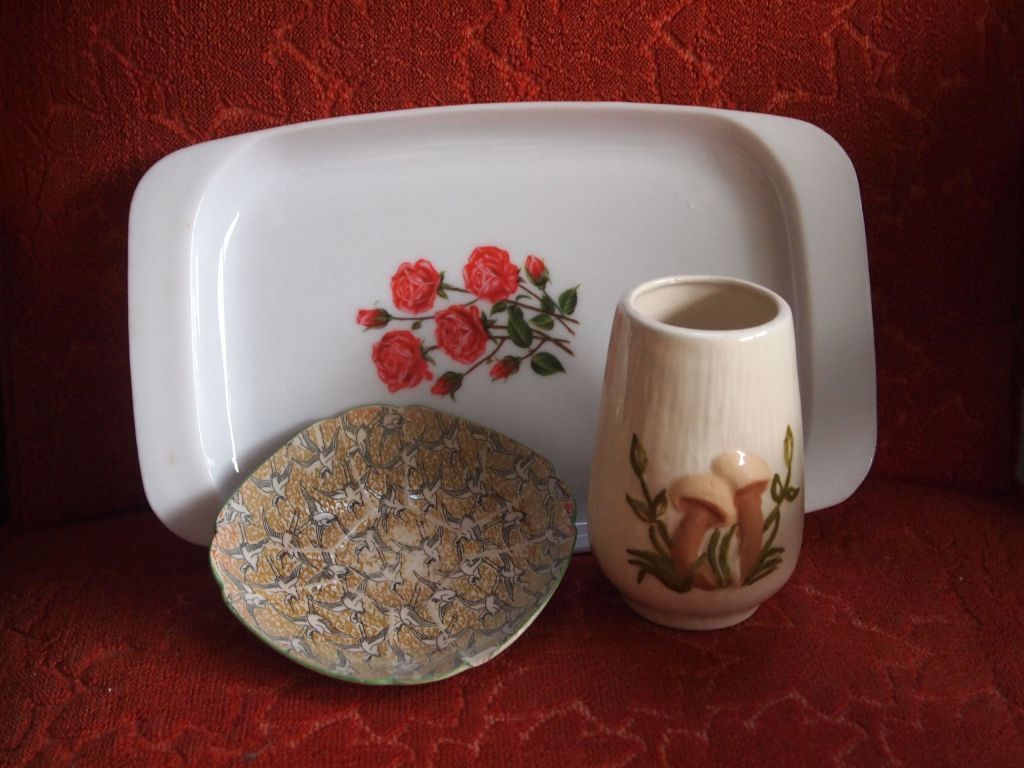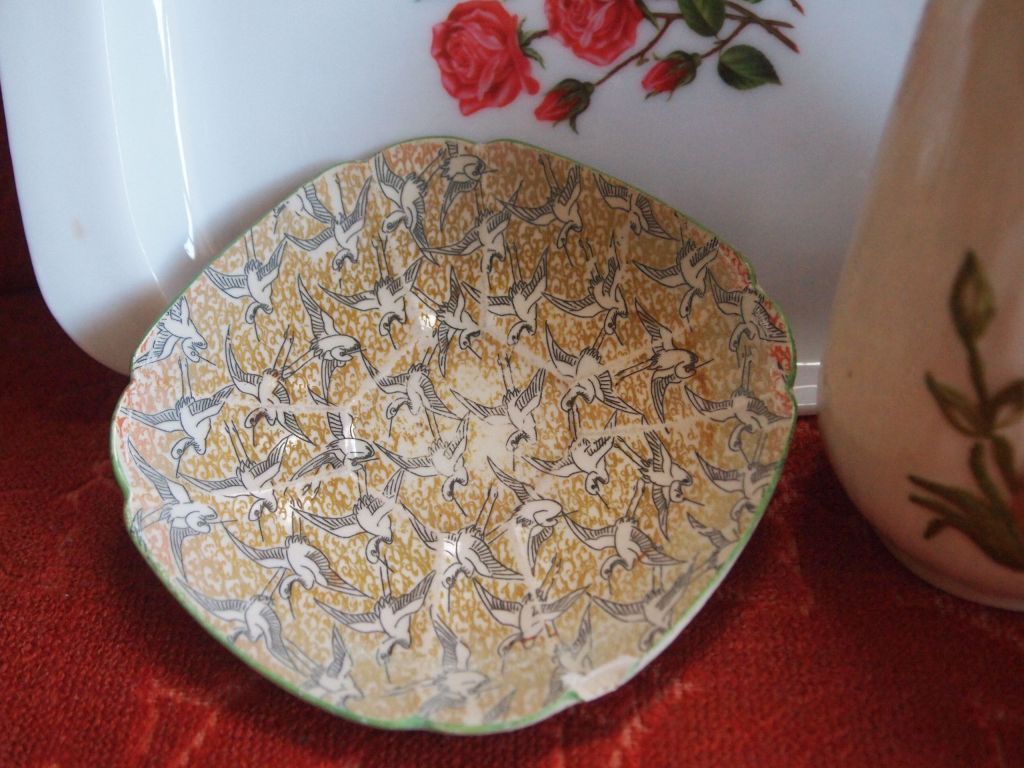 Rose is my name, my favourite flower, my favourite smell, and perhaps my favourite motif. I dropped a massive $5 on this mid-century-esque tray but I've been forcing Jack to bring us tea in bed on it to make it worth the spend. Also 70s mushroom vase that I'm going to grow coriander on my windowsill in, and this delicate little saucer with a sorta tessellated bird pattern that I'm keeping my rings and hairties in on my dresser. Also got some large Agee preserving jars for $2 each, which I guess seems like lots for a jar but I've seen them for $15 in ~antique shops~ haha. Preserving rules!