I have lots of posts brewing in my brain but I kinda don't have time to give them the energy they deserve, so here is something for the interim. A couple of months ago I was photographing my favourite labels on some of my vintage made-in-New-Zealand clothing and forgot about the pictures, so here they are. I always get super excited when I find vintage that was made here, especially when I find it in opshops. I am really interested in the history of the fabric and garment trade in NZ and I would love it if anyone has recommendations of books about it, other than The Dress Circle. There is very little information on most fashion labels from 20th century NZ and I fantasise about creating some sort on online directory of them when I have imaginary spare time. I have plenty more in my collection- El Jay, Glengyle, Ballantynes, early Dotti, Katie's, HOT Warehouse, Rico of Holland, Truly Fair, VIRUS, Lulu by Lenbry, Isadora Duncan, Reno, Thornton Hall, Andrea Biani and lots more, but these are my favourites.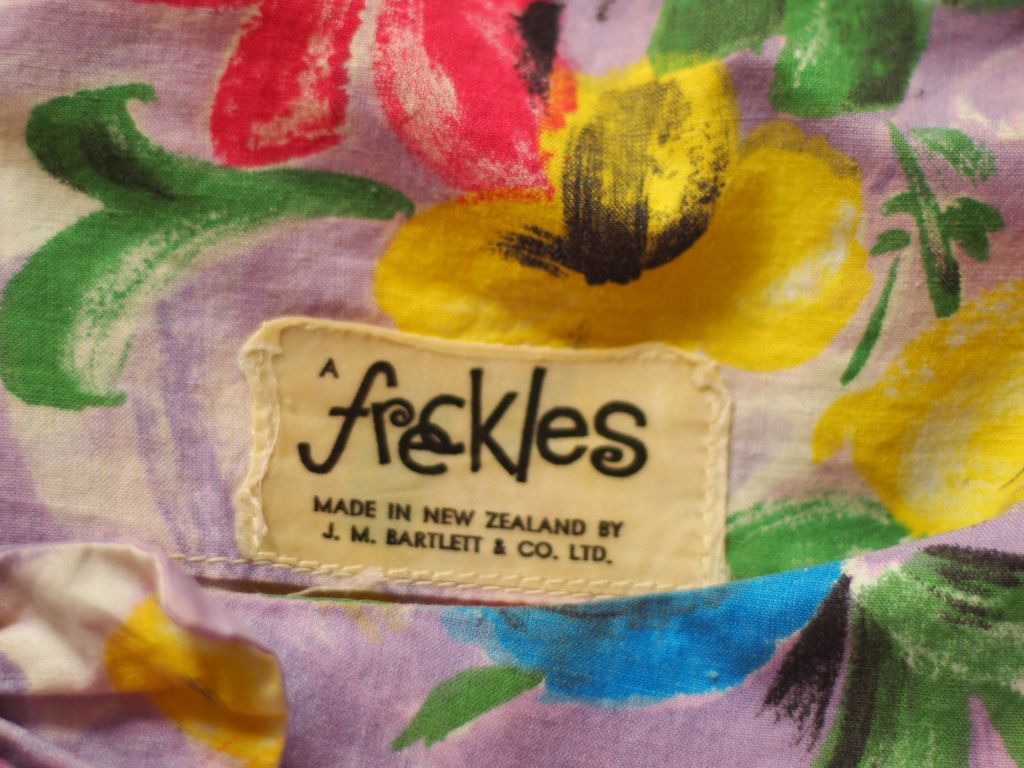 'Freckles' by J. M. Bartlett & Co., from a 1950s day dress I got on Trademe, worn
here
aaaages ago.
My two Horrockses dresses, the first woolen one made in the UK in the 1950s and bought for a mere $30 from a vintage shop here in Wellington, worn
here
and the second made in New Zealand in the 1960s, picked up from an opshop for me by my friend Alex in Christchurch for $6 and worn
here
.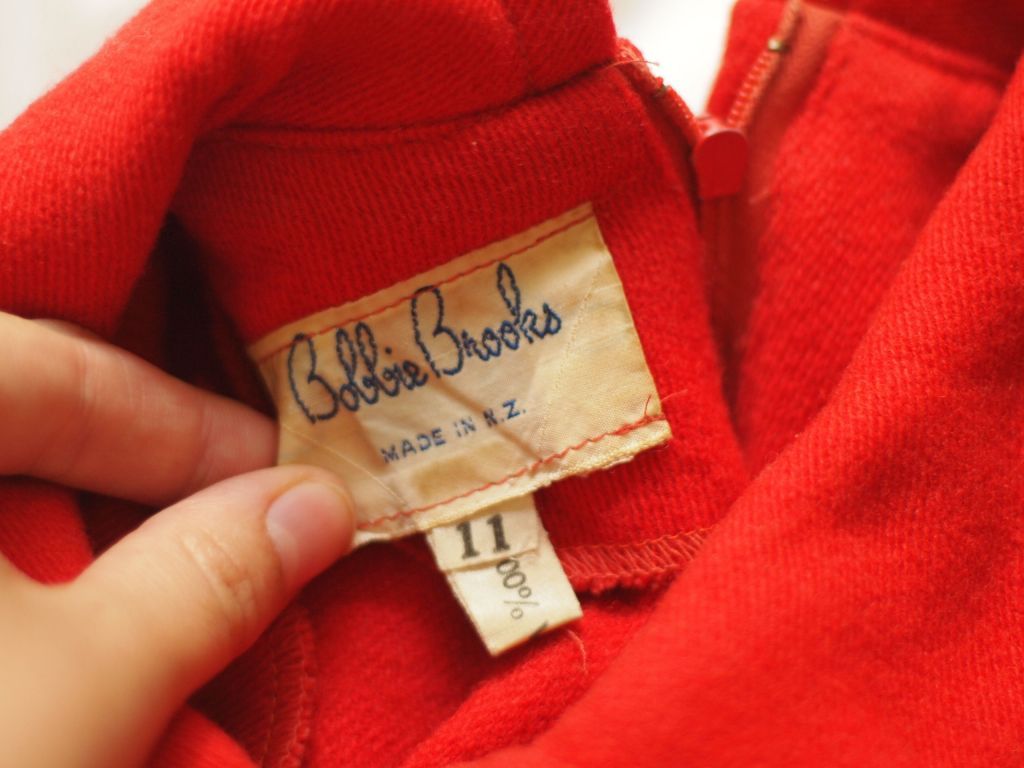 My amazing 1960s red woolen military dress by Bobbie Brooks that I thrifted when I was 15 or so for $4. I remember skipping last period (sorry, mum) on a fine Friday to go opshopping with my friends and being so happy to snag this in the middle of summer, along with some rose-print rayon shorts that I have no idea what happened to. I was wearing this in the photos used in our
first ever blog post
, where we were photographed by a local street style thing for the newspaper. This one deserves far more wear than I give it.
An amazing and very modest 1950s Bobbie Jean swimsuit that I plan on wearing under sheer skirts and dresses when it warms up. My friend Margot's mum sold this to me for $5 when I found it in her costume box, haha, and I've worn it
here
and many other times that have remained undocumented.
A Rayana Production, on a perfect 1950s royal blue velvet dress that I got off Trademe. Worn
here
in perhaps one of my favourite outfit posts ever.
Mod-ish 1960s Freddie Allan dress that I got from Recycle Boutique. Fun fact: soon after I moved here I saw this dress being taken to Recycle to be sold and decided that I needed it, and then 3 weeks later I saw a shop assistant pricing it and putting it out on the rack and snapped it up immediately.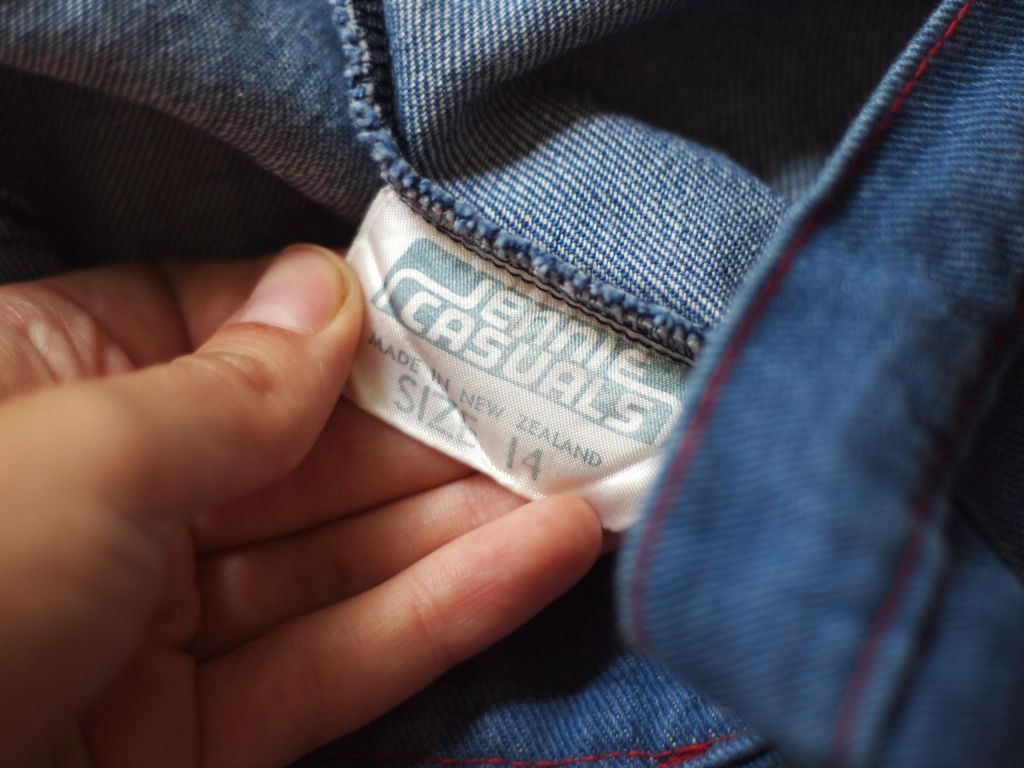 Jennie Casuals, on these amazing late-1970s embroidered high-waisted short shorts that I don't think I've ever worn on here. These almost perfectly match a pair of ABBA-esque flares that I got from Two Squirrels for $5 years ago, even though I don't wear jeans- they have matching red and yellow floral embroidery.
Lots of things from this Frankie label have passed through my hands in my time at the opshops, all of them seem to be from around the 80s. I managed to persuade Christie to sell me this dress after years of coveting it openly, and it's one of my favourites. The light fabric and butt-skimmingly short length make this perfect for hot days, hence why I wore it
here
in Singapore.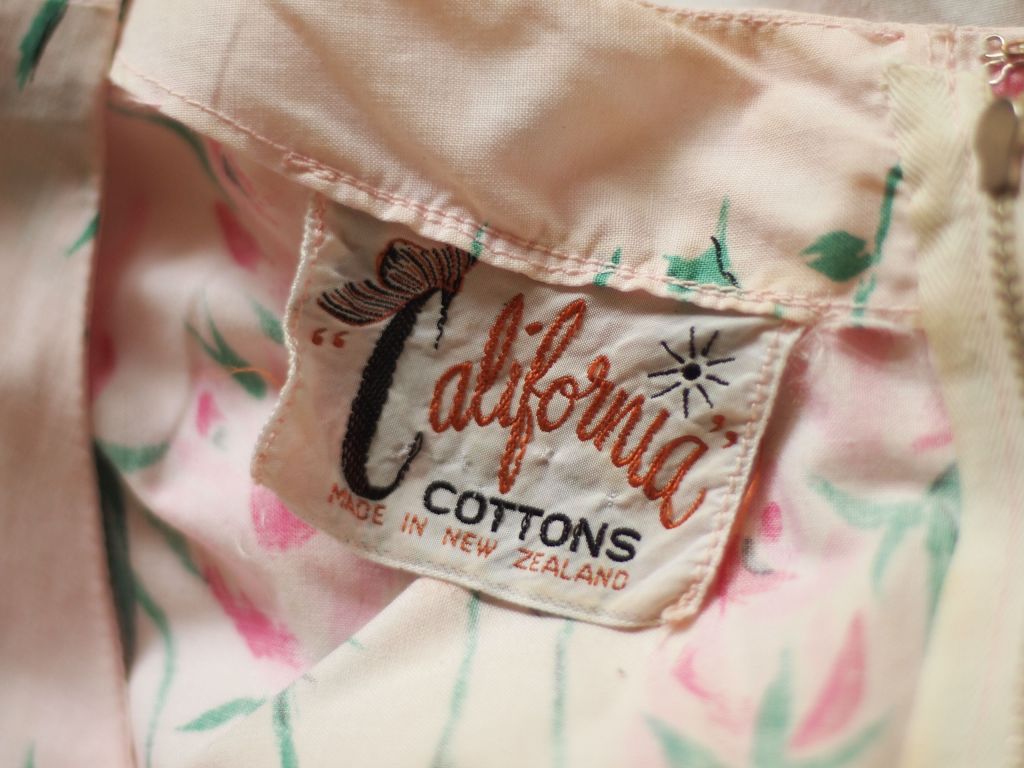 Perhaps my favourite of all of these, California Cottons, made in New Zealand in the 1950s. EDIT: It looks like I just wasn't Googling hard enough because I found a few mentions of this label including some amazing ads
here
and
here
. Does anyone own
this book
and have any info on the brand? How something made in NZ can be in any way Californian is beyond me, but hey, it was a different time. I got it off Trademe for a very small price, and wore it to see Bon Iver earlier this year with purple 60s high-heeled suede mary-janes by another enduring NZ label, Andrea Biani. You can kinda see it in
this terrible webcam photo
.
Also I would really truly love to see other photos of labels from the vintage collections of other Kiwis, so if you have any please please send me links or email me (georgianess at gmail dot com)! I would love to do some sort of master post on them, or something.