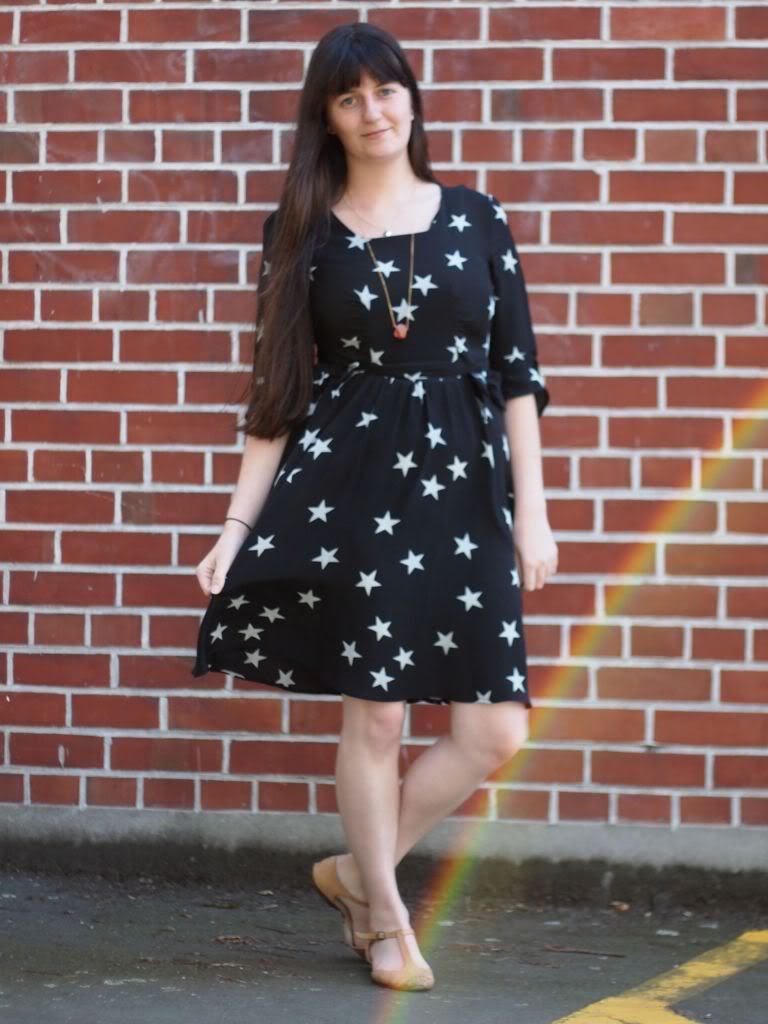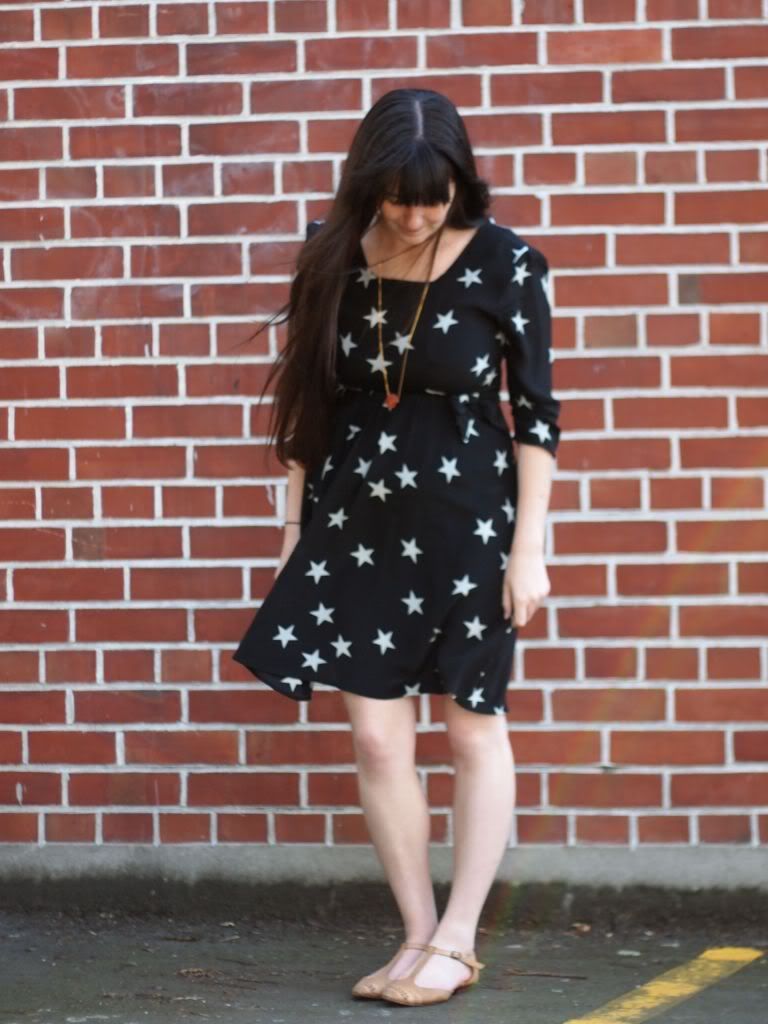 (Wearing Topshop dress from eBay, carnelian necklace from Dear Oh Deer, and t-bars from Emporium Vintage)
I am ecstatic that this dress and I were finally united. It's a Topshop one from 2007, but unfortunately for me, Alexa Chung wore it on TV once. Of course, this meant it went for
ridiculous
prices on eBay, always a little out of my financial league. A few weeks ago, after a fit of essay writing deep into the night, I felt like rewarding myself, so searched for it on eBay for probably the thousandth time. I managed to find one in my size, and bit the bullet and bought it. Waiting 11 days for it to get here was agony, especially on top of the 4 years I'd already wanted it. I am chuffed with it, and the detailing is impeccable- you can't really see the bows on the waist, but they're so adorable. I added this gorgeous carnelian necklace that I won on
Ice Floe
to add to the witchy vibes.
Also:
It's always slightly awkward to bring up break-ups, especially in the blogosphere. A couple of my favourite vintage bloggers, whose names I won't mention because I don't think they'd want me using them as examples, have recently ended relationships with boyfriends. They dealt with it in very different ways on their blogs- one making a specific entry letting her readers know, another subtly referencing it for several posts in a row until the message became clear. When Logan and I broke up a couple of months ago, it obviously wasn't my first thought how I was going to blog about it, but it did eventually cross my mind. It's not overly pleasant to talk about at the best of times, so it's even less comfortable to share details of your failed relationships with a group of almost-complete-strangers on the internet. At first I was just not going to mention him ever again and hope you all just forgot I ever had a boyfriend, but then I got thinking about the way our personal relationships and our blogs become intertwined.
When I read blogs like
Elsa
and
Niotillfem
, and many others who all fit into the same category, sometimes I get little pangs of envy for their perfect relationships with their successful, camera-handy, teddy-boy-esque fellows*. It is sort of a pre-requisite of being a highly successful blogger that you have a talented man* behind the camera to help show off your lovely life, and that he be well-dressed and willing to be photographed looking so. Chances are, he's a good cook and buys you vintage jewellery too. But the nature of blogging is that we only see a single facet of these relationships. As juicy as it would be to hear about fights and drama, it's just not inkeeping with the glossy and hyper-realised version of life that is the norm in fashion blogs. Like personal style, weekend road trips and even meals we cook, relationships are commodified by the way we photograph and write about them online. They become part of our product, the lifestyle we sell. I have definitely been guilty of playing into these conventions in the past- it's not a bad thing, just an interesting thing.
We all want our lives to come off as interesting and happy, to attract attention from others for being so. This is made easier through the platform of blogging, a place where we can talk and talk about all the wonderful things we have and experience and share them with the world. Sometimes things aren't so sweet though- in my life, at least. Occasionally I get a crappy mark on an essay I worked really hard on, sometimes I look terrible in an outfit that looked amazing in my head, and this one time I got drunk off cheap moscato with my best friend and cried about how much we hate men while we listened to Bruce Springsteen's
Hungry Heart
on repeat for several hours. But I don't think a lot of the audience of this blog want to hear about that kind of thing- maybe my real friends care, but I don't think a group of internet strangers really want to know about it when I'm sad. It doesn't really fit in with the theme of this blog, or the model of fashion blogging in general. I guess what keeps you guys coming back is the whimsical photos and the vintage dresses, and not really the person behind them. I'd like to think I really enjoy the personalities of my favourite bloggers, but I'm not sure if that's the same for every blog reader. There's a bit of a template we all follow though, and I wasn't aware of it until a friend with a personal blog said he envied my blog, in that it had a genre with pre-set conventions already laid out. I guess personal style blogging is pretty easy in that sense, because it has such a defined aim.
I'm not really sure where I'm going with this tangetial rant. It's always interesting to me to observe the rising and falling of trends within the fashion blogosphere, and the ways we subconsciously mirror one another in the content and style of our posts. Anyway, the gist of this post is that a couple of months ago I had a boyfriend, and now he is no longer so. Oh well, these things happen, and I'm ridiculously happy with the turns my life has taken as a single lady. I've somehow managed to achieve pretty much everything I've ever wanted, all by myself! I'm seeing an amazing new dude though, I really like him and I'm super excited. Maybe you'll see him on here in the future, or maybe things won't work out. I'll keep you guys informed, though.
*This sentence, and this entire post actually, is largely heterocentric and I am aware of this. I refer to boyfriends and husbands in this post predominantly, as I'm sure every reader can think of many popular personal style blogs where male partners feature heavily, and this is the context in which I've observed these patterns. I do not intend to discredit, belittle or exclude any relationships.