Damn, I love this coat. I love this coat
so
much. The story of how it and I came to be together begins with a magical dream some months ago, in which I thrifted an emerald-green princess coat with a velvet peter-pan collar. Does anyone else have dreams where they have amazing vintage luck, and wake up disappointed? Or just me? But yes, I dreamed it up, and then I set about on a lengthy quest to find it. I had almost given up, when my final Etsy search for 'green princess coat' came up with this one from
Zwzzy Vintage
, and it was love at first sight. Just in time for it to be a birthday present to myself too- I'm an April Fools baby. Although it is a liiiittle bit small in the bust, which I'll need to move the buttons to remedy, it is painfully beautiful and I've worn it non-stop since it arrived. The detailing is amazing, and the taffeta lining makes a satisfying swooshing noise when I walk.
I also birthday-treated myself to this embarrassingly-cheap replacement for my 1950s leather school satchel that I carry almost every day. The old one was a costume cupboard steal (literally) from my early years of high school, and it's been a truly faithful friend. It's held many a smuggled bottle of wine, been through many an airport security x-ray, and sat through many a lecture. But the stitching has almost all come undone, and the straps were wearing through and almost falling off. So I upgraded to a younger, sexier model off Trademe, and I hope it will see me through many more adventures. It was about 1/10th of the price of a new Cambridge satchel, plus has bonus vintage karma.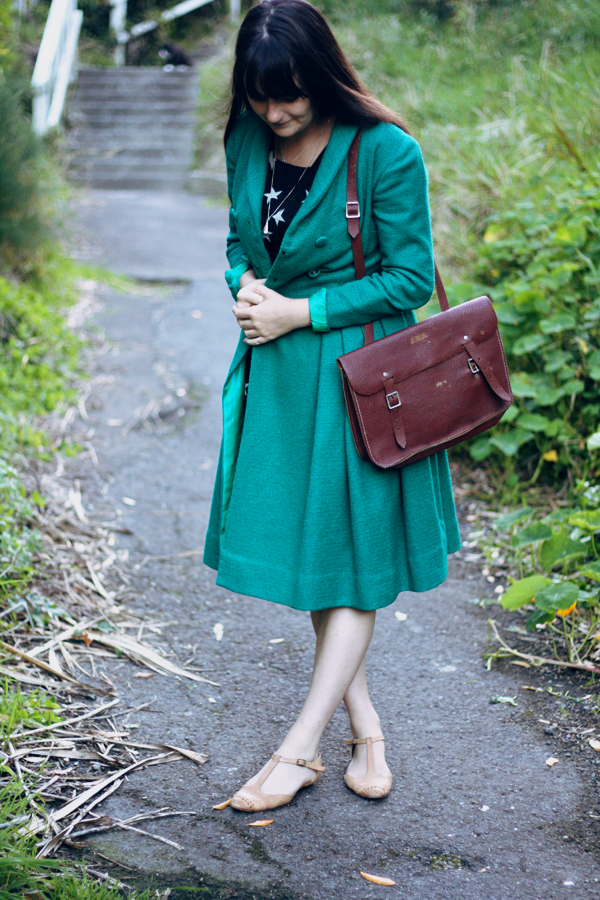 (Smiling like an idiot at the awesome cat just out of sight)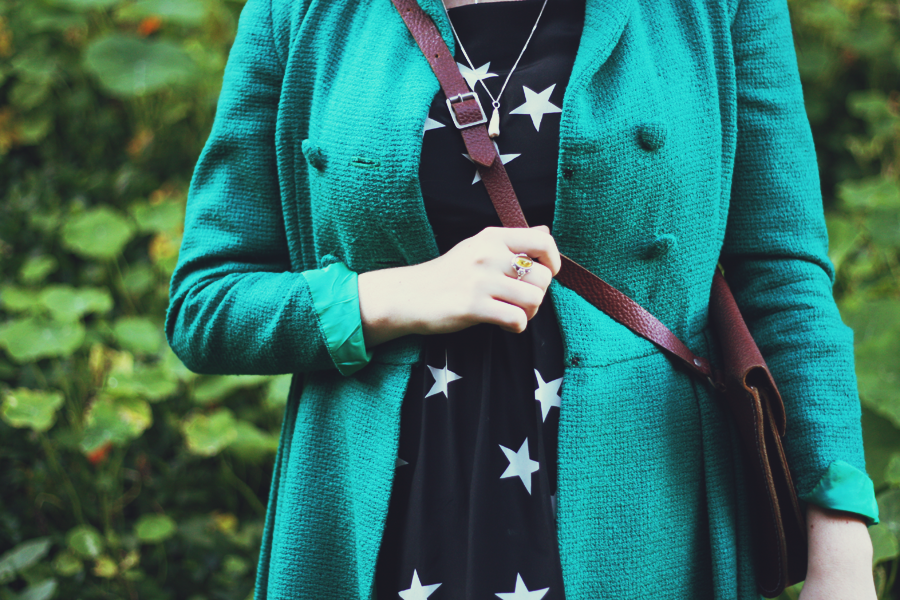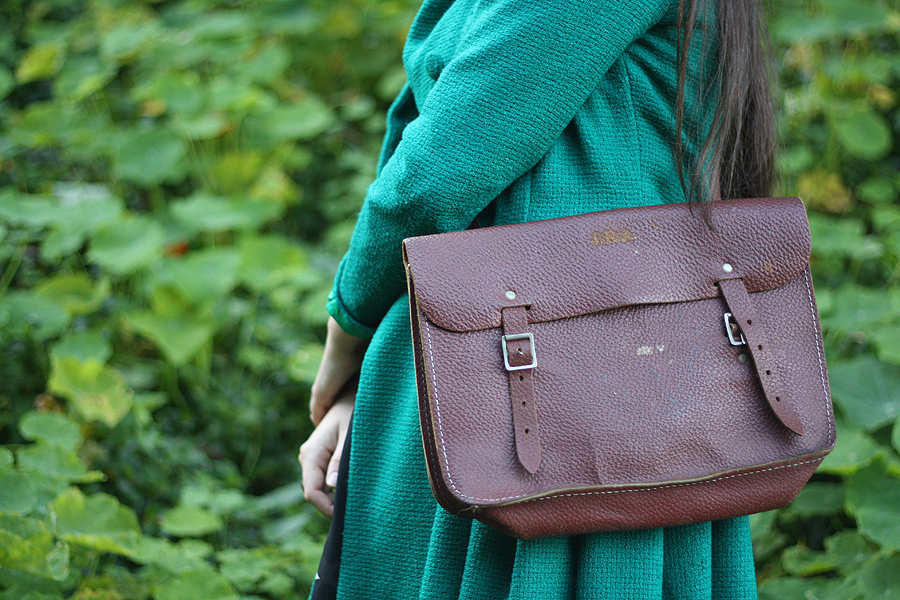 (Wearing 1960s green princess coat from Zwzzy Vintage, Topshop star-print silk dress circa 2007 via eBay, tooth necklace I made myself, amber ring that I never take off that I bought in Crete, t-bars from Emporium Vintage and 1950s school satchel from Trademe.)
Photos by the amazing
Kita
, who is not only super talented but bought me
nemesis cake
for my birthday, and in doing so changed my life forever.
This might be my last blog entry for a couple of weeks. I'm leaving on Tuesday for an impromptu-ish trip to Singapore and Vietnam, woohoo!