Almost exactly a year ago I made
this post
, with pictures of some of my favourite made-in-NZ labels on my vintage garments. It has proven to be one of our most viewed posts, mostly hits from people googling the names of labels, which I do all the time, trying to find information on them. I get a bit sad sometimes when I think about all the manufacturers who have just disappeared from the face of the country, and when I look them up all there seems to be is archived Trade Me listings from years ago. I decided to do a 2.0 of that post, which last time inspired a few people to do the same thing, as I've acquired a few more nice locally-made garments since then. Please link me if you do anything like this! I love labels, and I always get so excited when I spot a good one.
Also if you have any 1950s or 1960s NZ-made dresses (or any clothes or shoes, really) that you would like to sell, please get in contact with me at georgianess at gmail dot com.
Last time I posted about a great 1950s floral dress I have by California Cottons, and I have received a few emails from people about this label, because dresses by them are SO great. These are three of the best dresses I own. The first is a beautiful cap-sleeved blue velvet number I paid $17 for at Recycle, the second is my birthday dress, and the third I got on Trade Me, although it is sorta cheating because the label doesn't specify where it was made. As far as fellow fan
Holly
and I can ascertain, the maker has no real connection with California. It seems like most of these dresses were made in the UK, and it must've been a pretty upmarket label as the dresses SO nicely made with wonderful linings, built-in petticoats and hand-stitched detailing.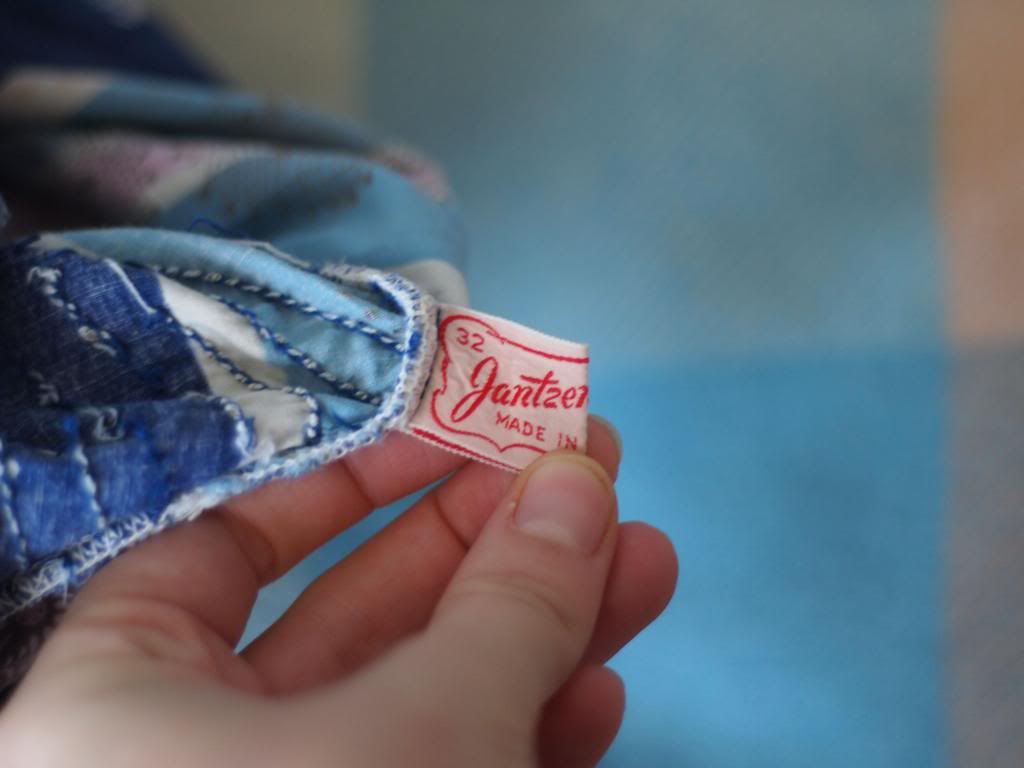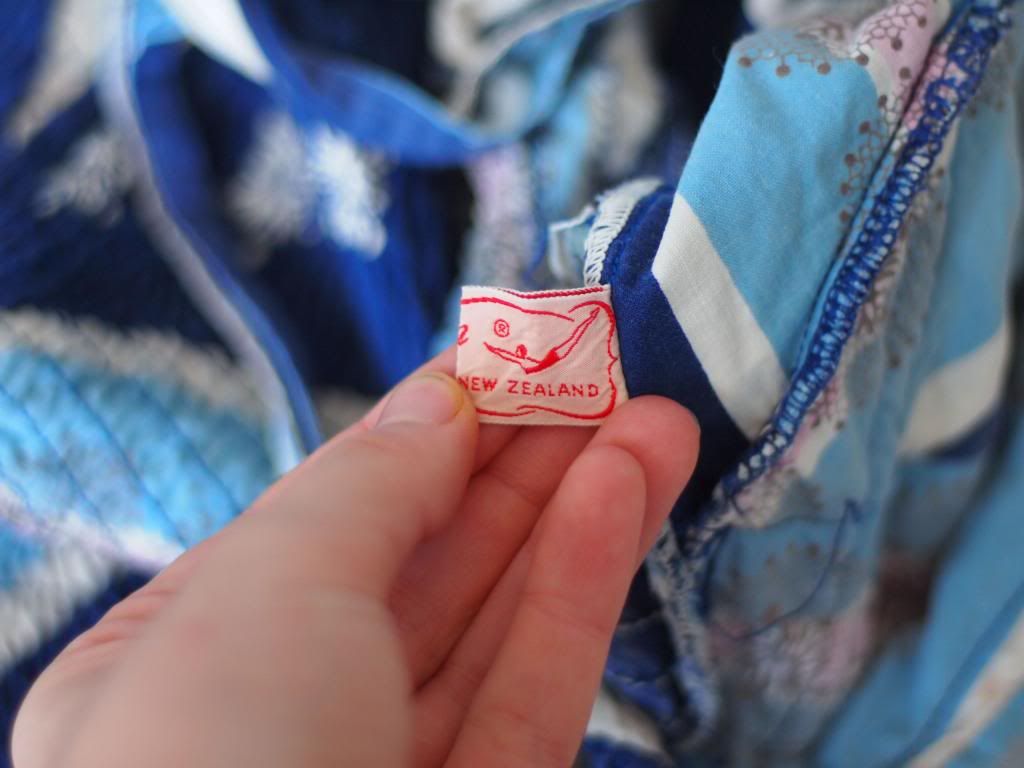 Jantzen is another big-name international label that was manufactured under license in New Zealand in the 1940s and 1950s, and I believe still is.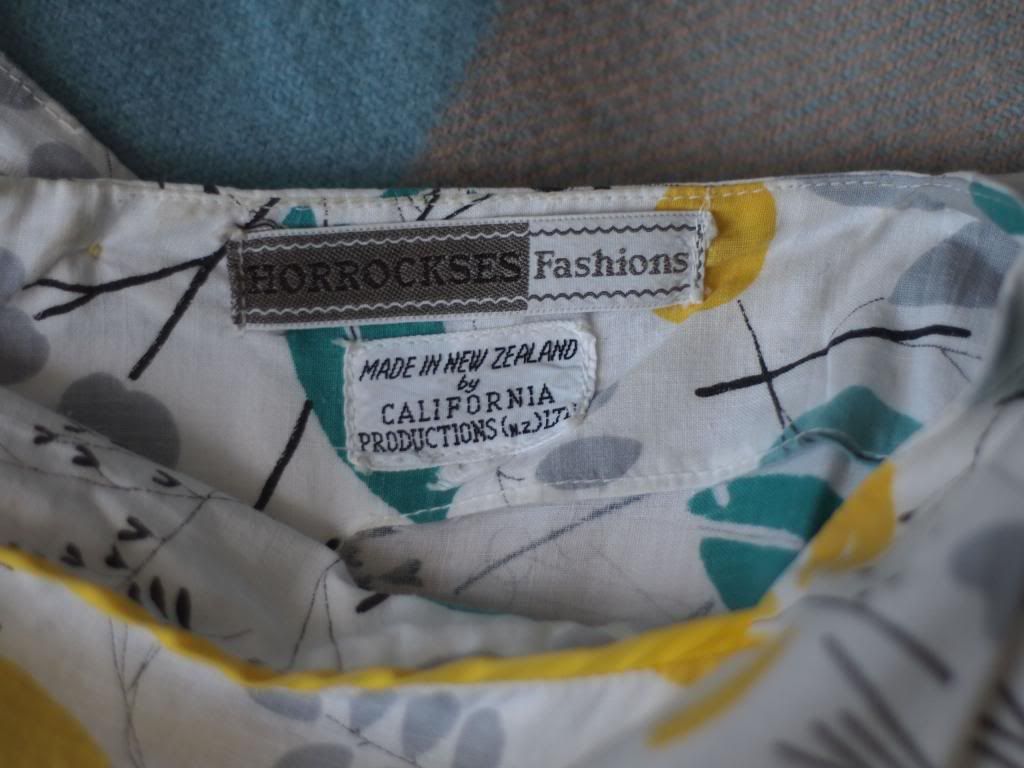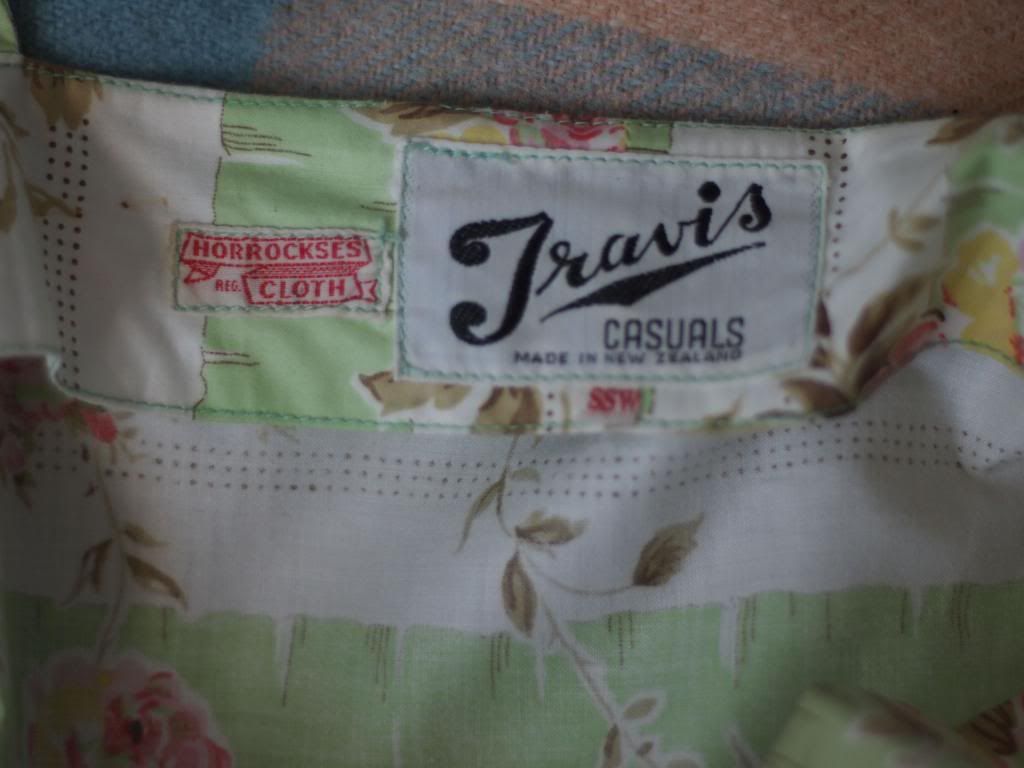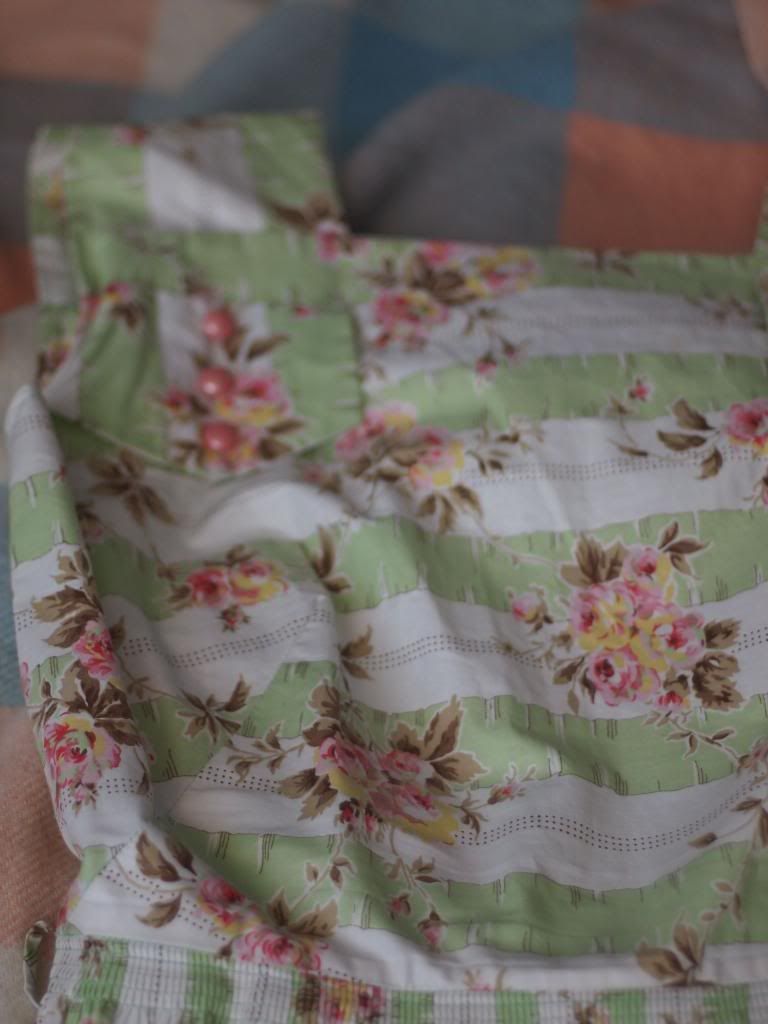 A couple of my absolute favourites - my Horrockses 1950s cotton dresses. The first one was manufactured under license in New Zealand by California Productions, and the second is made by Travis Casuals but using a quintessential floral striped Horrockses fabric, and has the same label as my Horrockses apron I opshopped last year. Both these dresses are, like my California Cottons, made to an exceptionally high standard.
Camelia
also has a California Productions Horrockses dress which she posted about last year, and there is a truly superb one on the website of
Te Papa
, our national museum.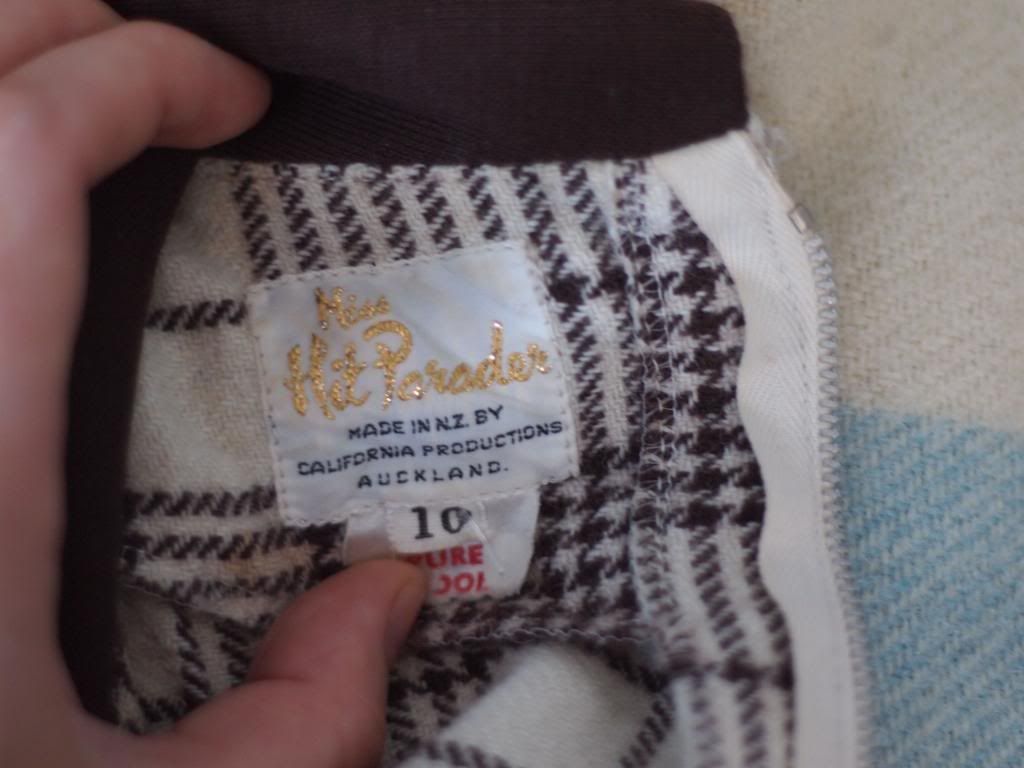 California Productions also manufactured this adorable Miss Hit Parade woolen peter pan collar 1960s dress that I opshopped in Petone last weekend. It is way too small for my generous bosom, but so adorable.
This
is the only reference I could find to that label, but I did waste a lot of time browsing that website, which archives the newspapers from the area my family is from. So many pictures of relatives from across the 20th century!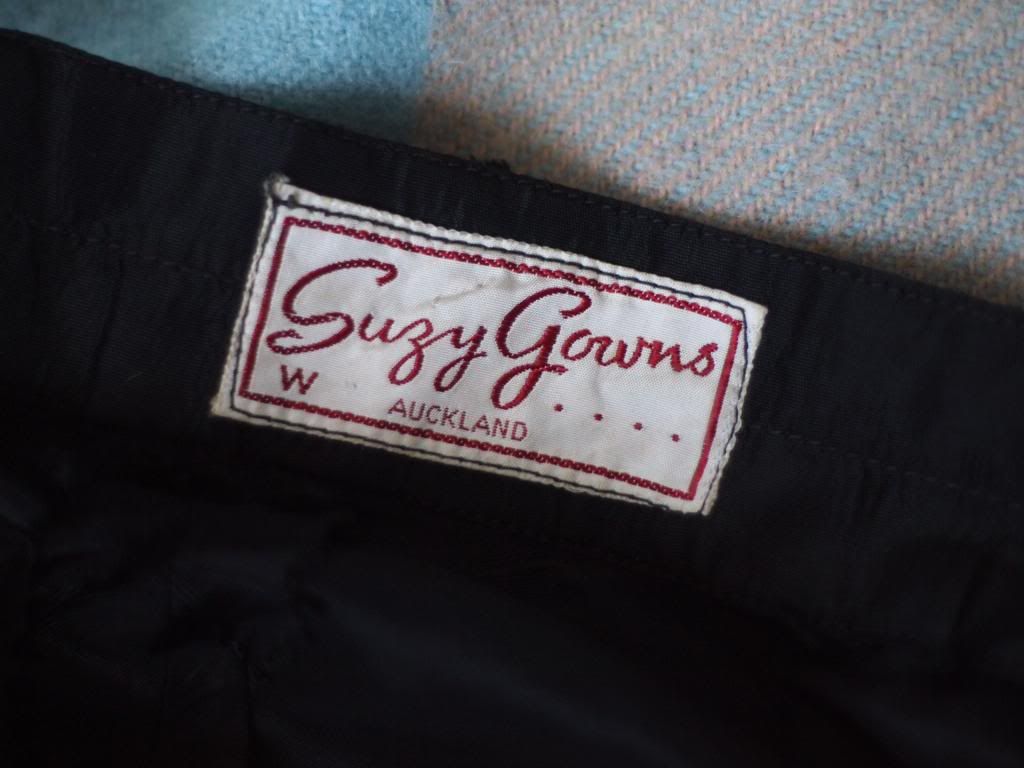 The only info I could find about Suzy Gowns, the label on this great black tafetta 1950s skirt that the seller told me her mum wore a lot at the beginning of the 1950s, was an ad from a 1953 Upper Hutt newspaper for a situation vacant at the factory.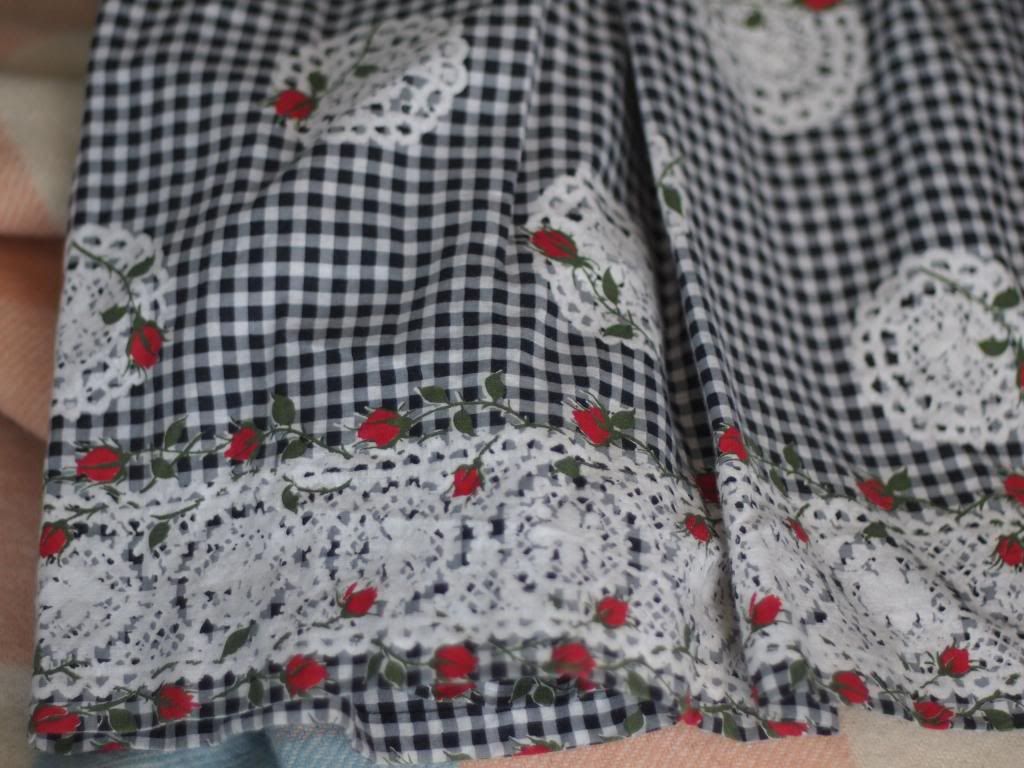 I got this Care Free Fashions rose and lace and gingham border-print day dress from Recycle recently. It has an awesome sailor collar as well, which is admittedly a bit twee even on me.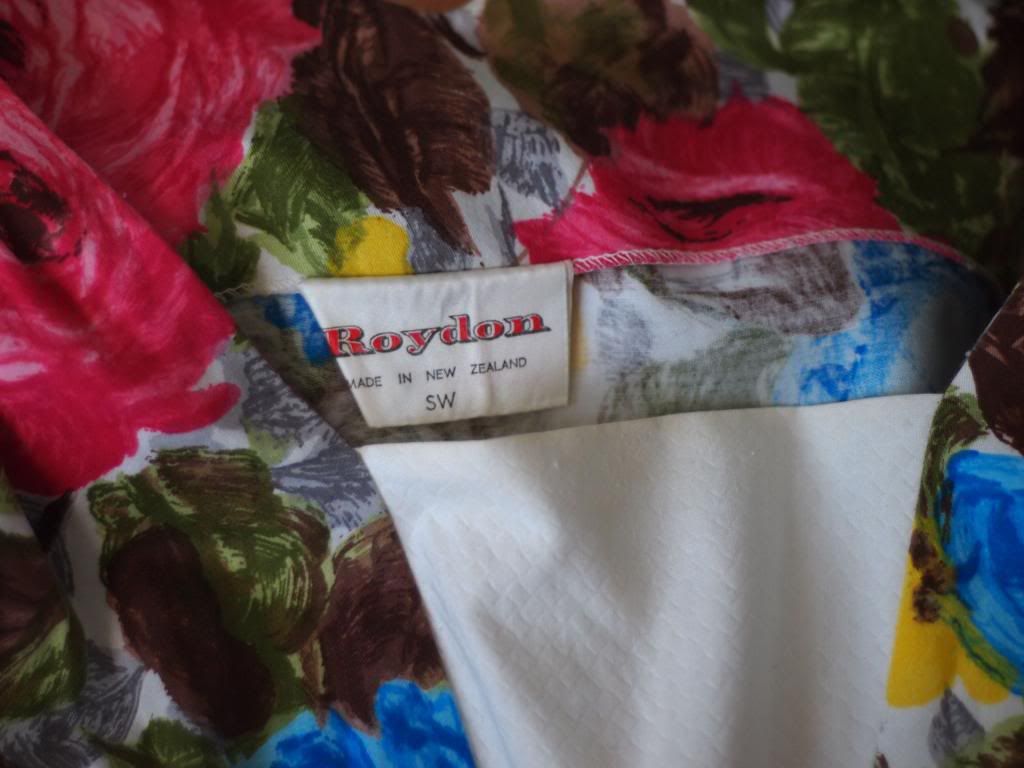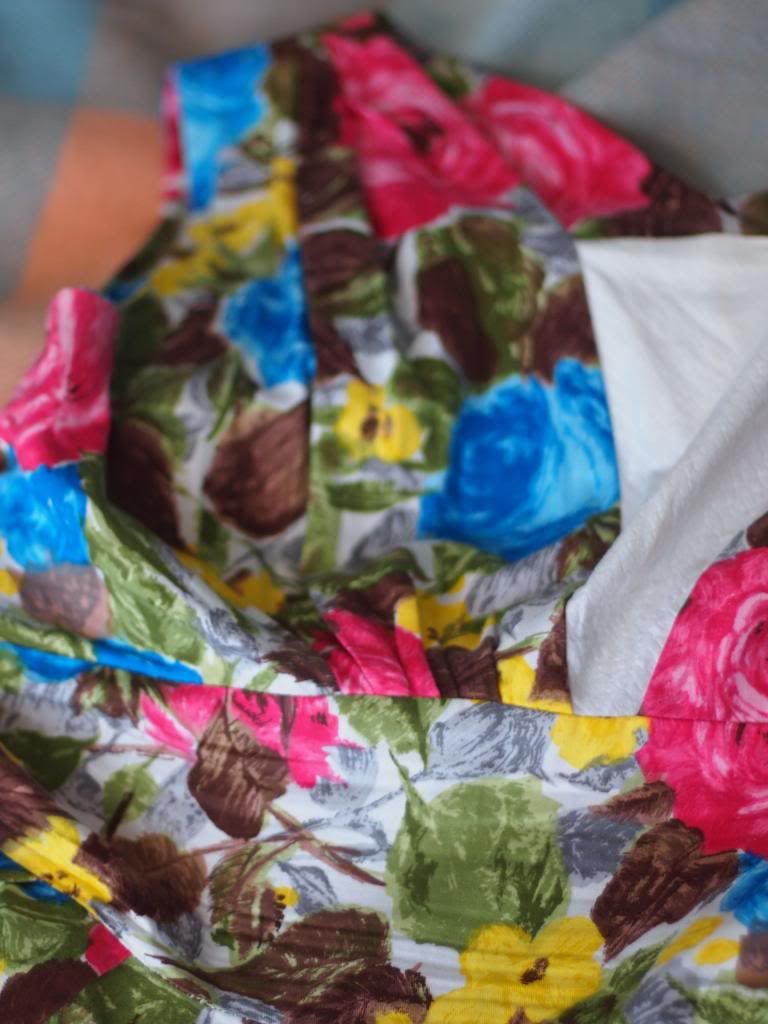 This Roydon 1950s rose printed dress has a special place in my heart, because I have a photo of my great aunt Rosalie wearing a dress of a very similar style when she was my age. Both she and her sister, my grandma, were of very similar builds to me, and every time I go vintage shopping with my mum she sighs over dresses and says they are just like ones that Julie and Rosalie used to wear. I so so wish they'd kept them all, but they are a notoriously un-sentimental bunch. My grandma donated her beautiful lace full-skirted wedding dress from 1956 to the Salvation Army, which makes me super sad as it would've fit me. But enough of that, let's focus on the cute dresses I do have that aren't lost to the decades!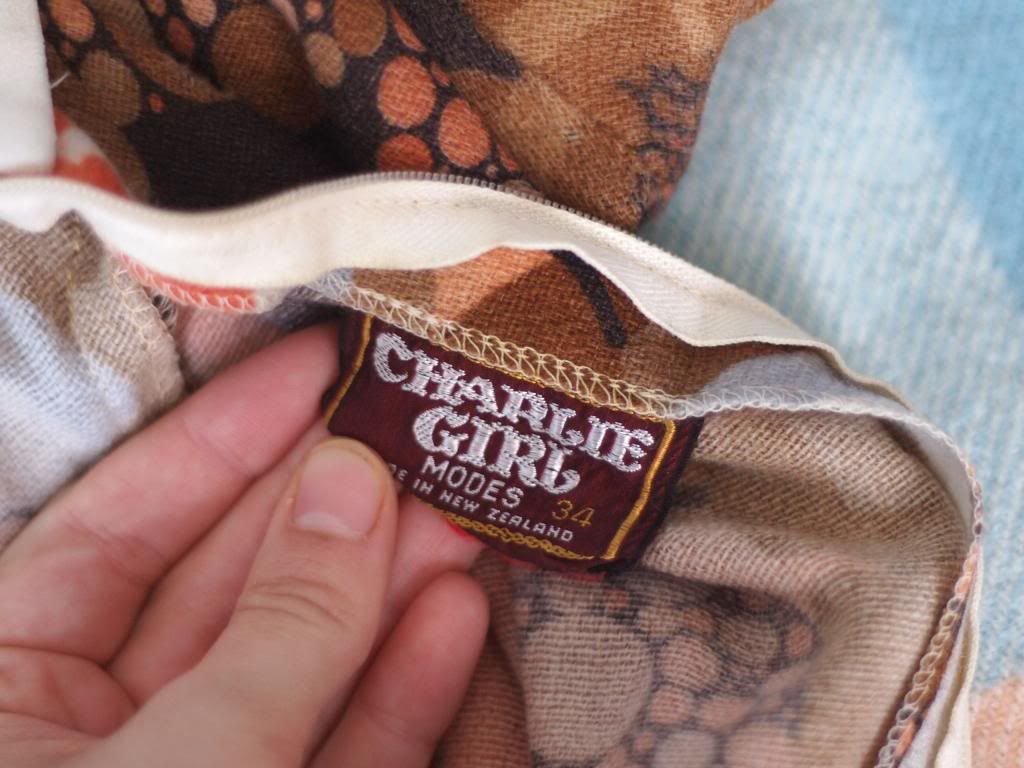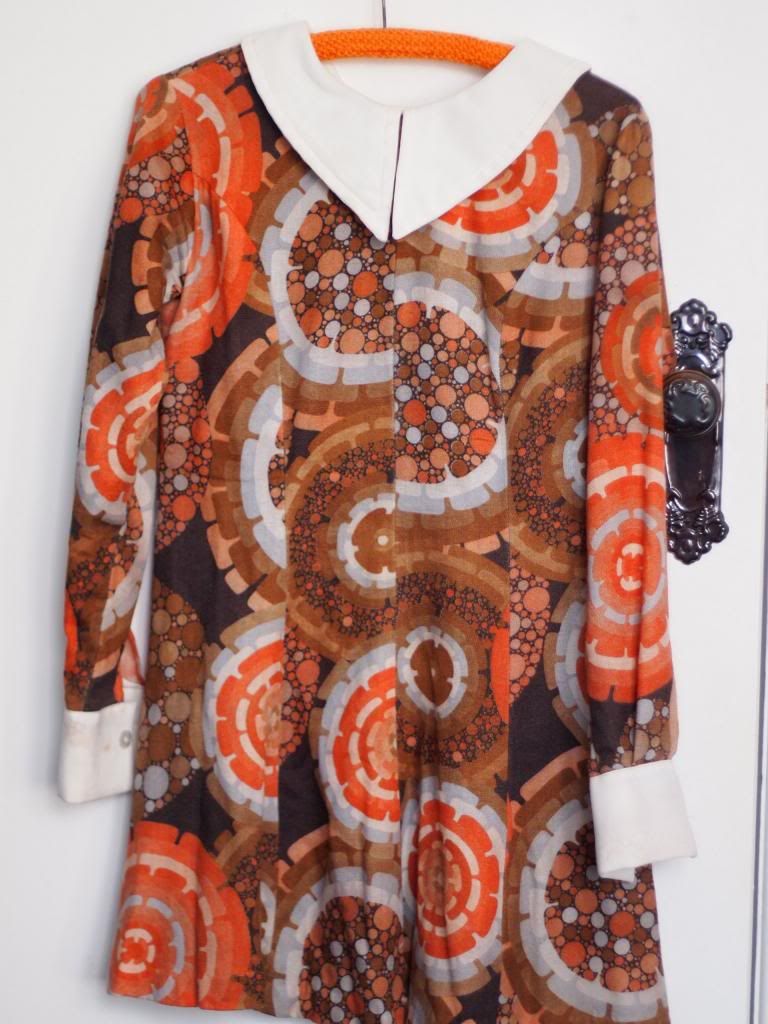 The best 70s party dress by Charlie Girl.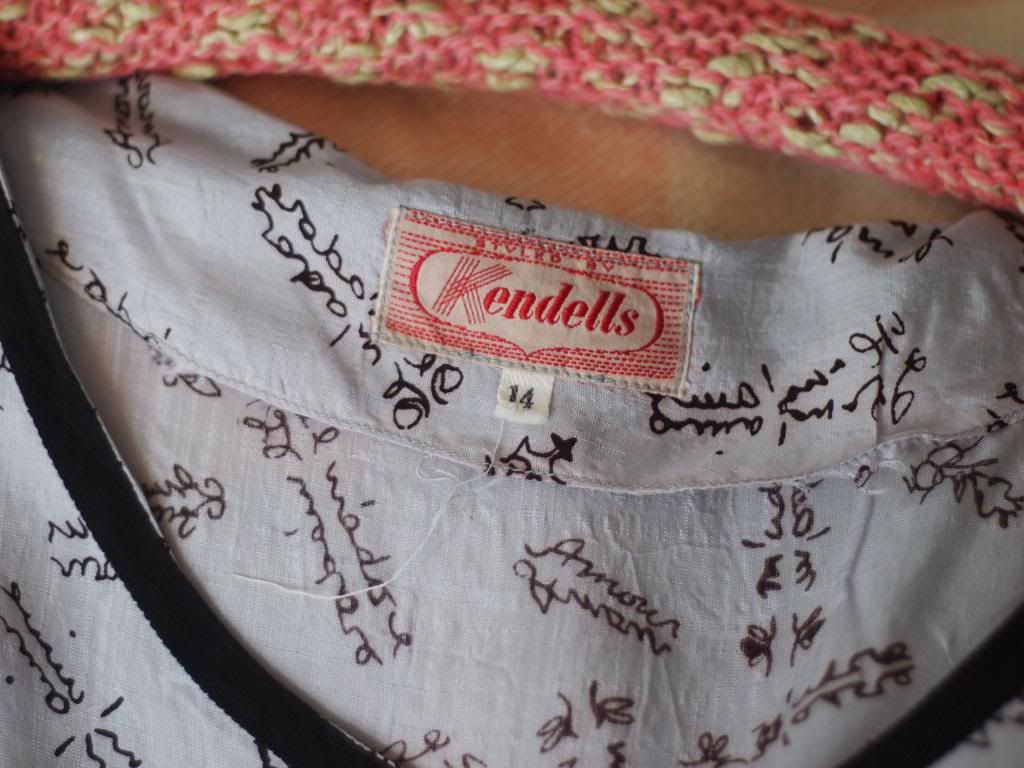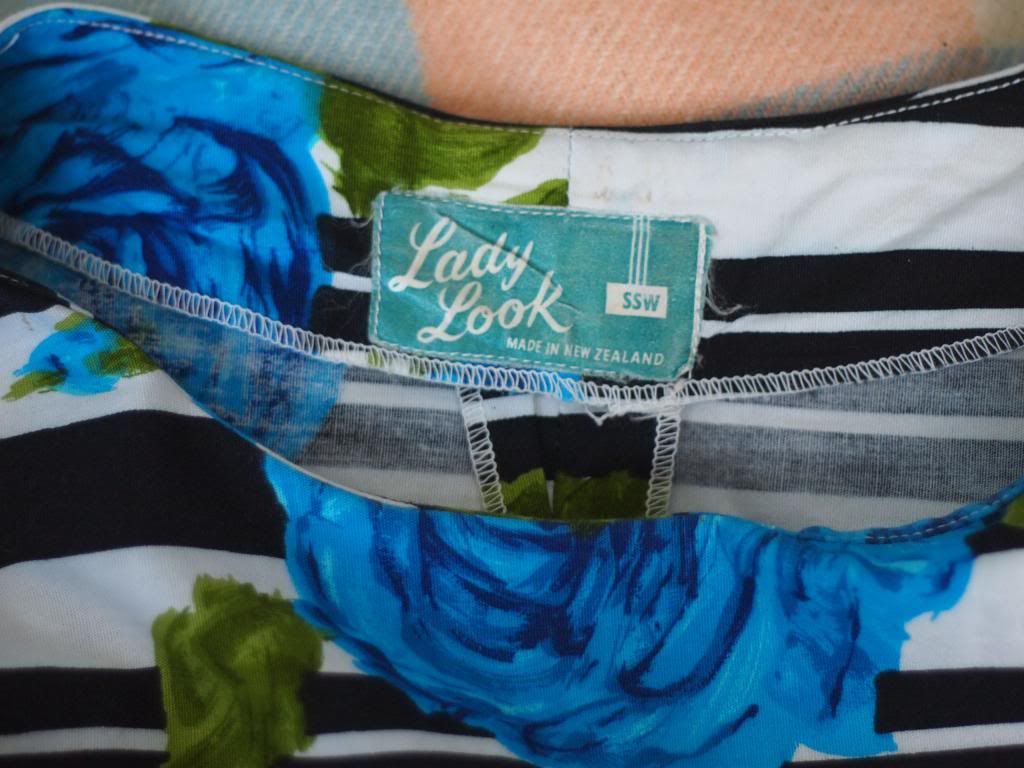 These 1950s or early 1960s dresses by Another Beejay Garment, Kendells and Ladylook dresses were all from the same Trade Me seller. These were the things she was getting rid of when she moved, so I would die to get my hands on the stuff she kept.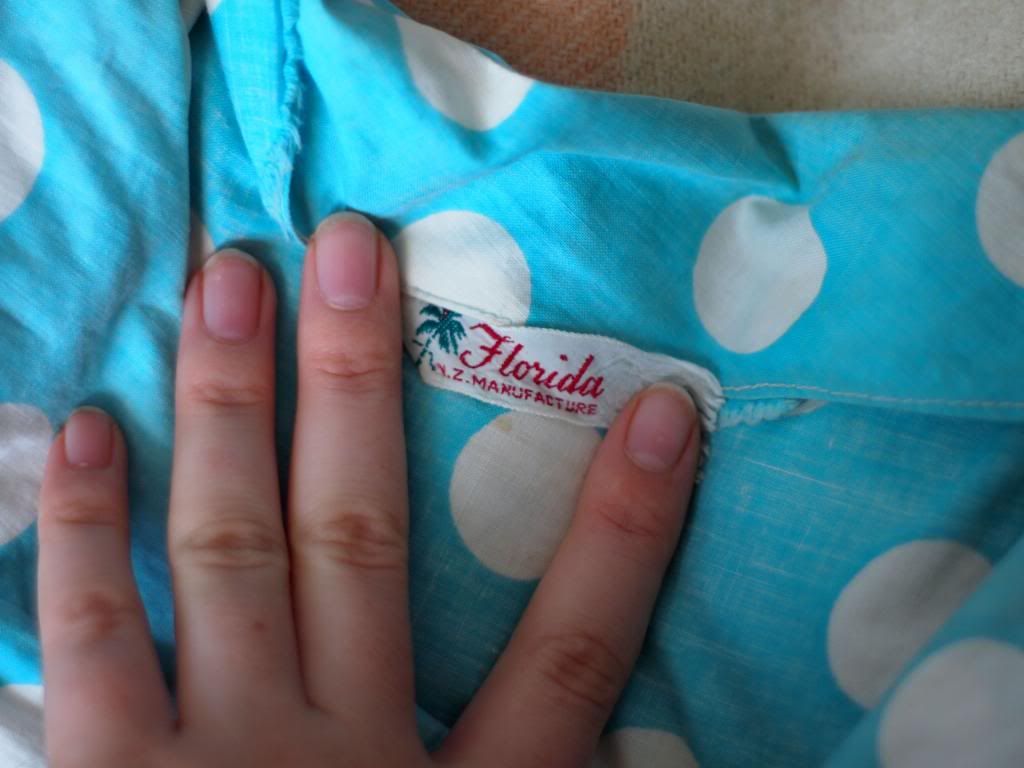 Another 1950s cotton day dress by Florida that proves NZ must've had some weird obsession with the US in that era.