These pictures were taken outside our new home by Jack, who was calling out posing instructions to me and making me laugh like an idiot. I've had the 'flu and been off work for a few days, and my 'flu has slowly turned into ear and sinus problems so I am a bit of a mess. The most strenuous activity I could manage today was a short walk to cash out at a consignment shop and spend all that money on one really, really pretty other dress, but I really wanted some photos of my newest Horrockses dress. I got this one on Trade Me a couple of weeks ago and have worn it tonnes of times since. Everyone seems to like it as much as I do and I get lots of comments on it, which helps to validate the bidding war I got in to win it.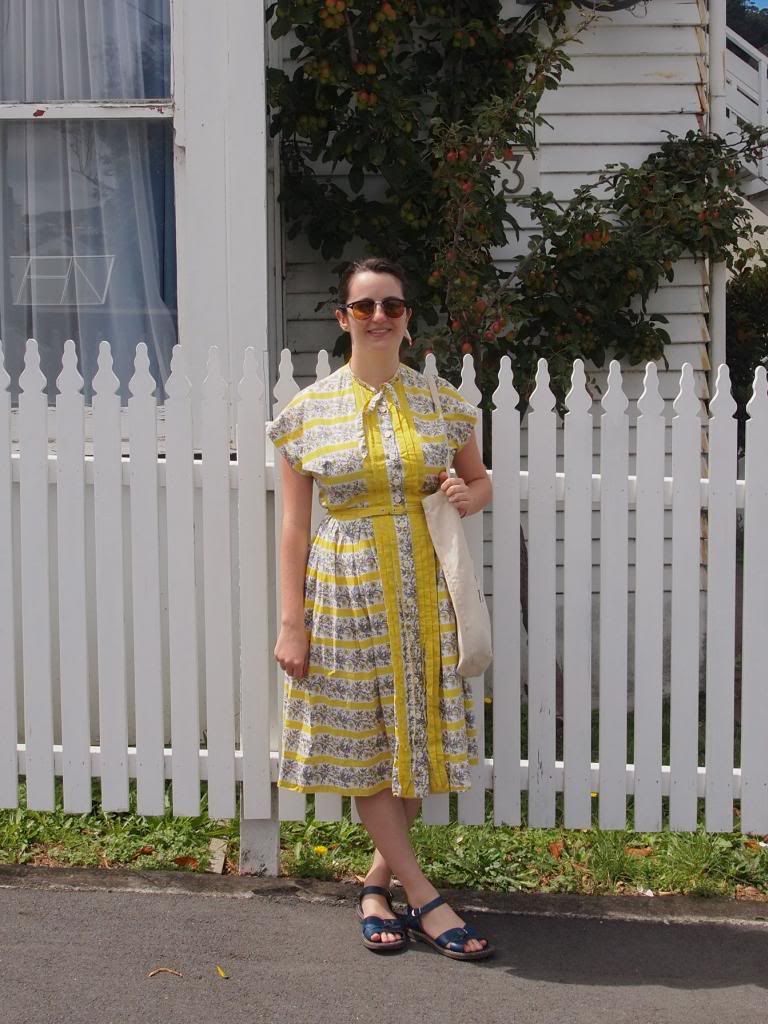 Wearing a 1950s Horrockses Fashion floral stripe dress with a bow collar from Trade Me, opshopped navy blue Roman sandals, Fieldguided Kate Bush lyric'd tote that I won on (I think)
Amy Merrick's blog
ages ago, clubmaster-esque opshopped sunglasses, my mum's old red enameled watch and my mum's old red rose hair bow from when she was a kid.
We have a white picket fence and an apple tree outside the window. Cute, right? This house is so perfect. I never saw it before I moved it, but Jack went to the viewing and was the only one there and the real estate agent said on the spot that we could have it. Why she decided a 20-something fella with long dreads and a huge beard (may they rest in peace) looked like such a good tenant she didn't even need to check our references is beyond me, but I am so glad she did because I LOVE IT HERE SO MUCH. This is my wardrobe:
Yes. Yesssss. I had to get like 30 more coathangers because for the first time in my life I can fit all of my dresses in one place!
Also are you guys interested on separate sales posts on here or would you rather I just posted a link to my Trade Me account? I have a handful of things I'd like to get rid of including an amazing size 6 made-in-NZ 1950s dress and I really just hate selling on Trade Me.