I am a bad blogger, etc. I am working hard getting my final assignments done and studying for the exam in two weeks that will herald the end of my time in tertiary education. I've decided not to do Honours and am instead taking a full-time job at the media company I currently work part-time for. Which will mean getting up at 5am every weekday, but also getting paid, which is nice.
Here is some stuff I've been up to lately.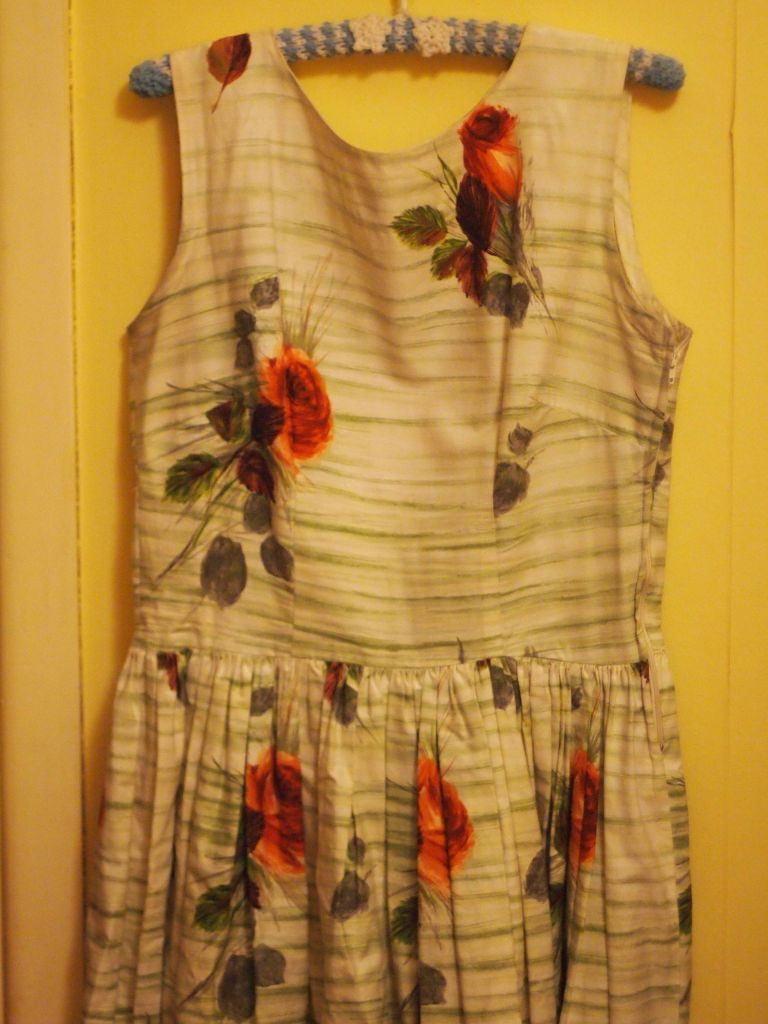 I cannot believe this dress is yet to feature on here, because I wear it SO often. It's become the thing I put on when I look at my wardrobe and feel contempt for all my garments. It is a beautiful 1950s cotton dress with an amazing full skirt and a border print of painterly copper roses over subtle green stripes that get bolder towards the bottom. This was a gift from my manager at the opshop I volunteer at, who saw it in the donations pile and immediately knew I would love it. She presented it to me when I dropped in to tell her I found employment (so, months ago) and I got all red and flustered with excitement. It fits me amazingly well and gets a ton of compliments. So thank you, whoever donated it!

I just thought my dresses looked cool together the other day.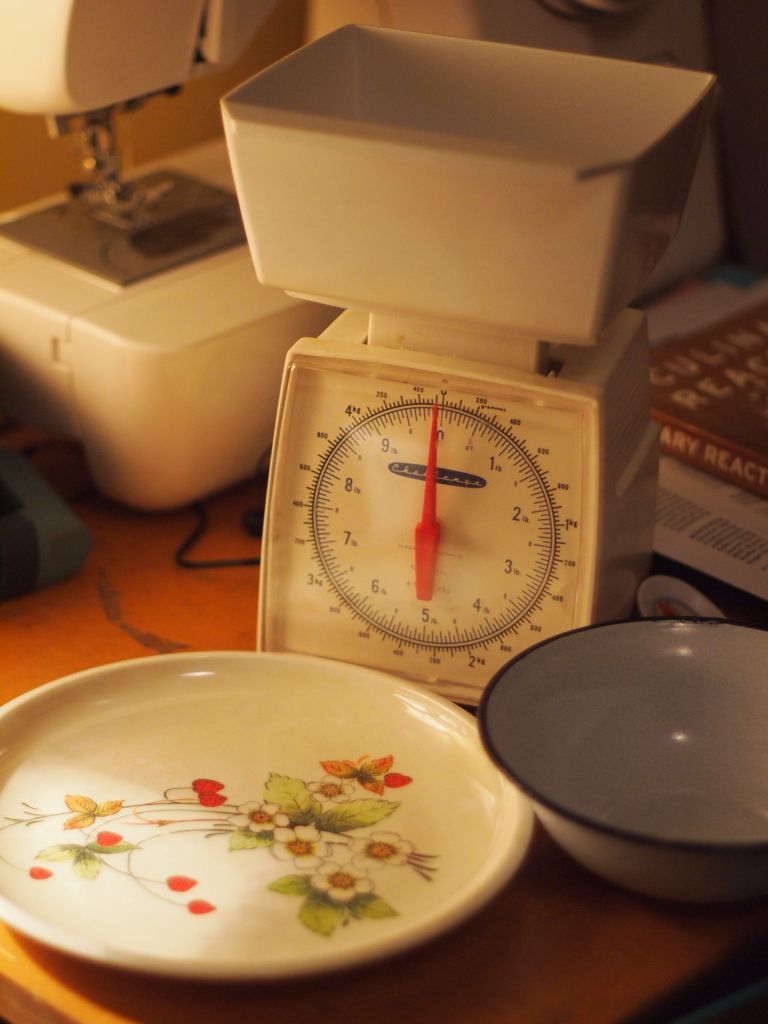 Some 1950s kitchen scales I got for $4, as well as a floral melamine plate and an enamel bowl. I love kitchenware made of non-pottery things, as I am horribly clumsy and accident-prone and it is good to know they won't smash if I drop them.
Today I worked then uni-ed then went on a little picnic on the sunny bank at the end of our road. We ruined some perfectly good vege sticks by slathering them in onion dip, a Kiwi culinary delight made of a can of reduced cream, a sachet of dehydrated onion soup mix and a ton of vinegar. It probably sounds gross to anyone who didn't grow up eating it, but it is a truly divine food and I would eat it every day were it not just cream with flavour added.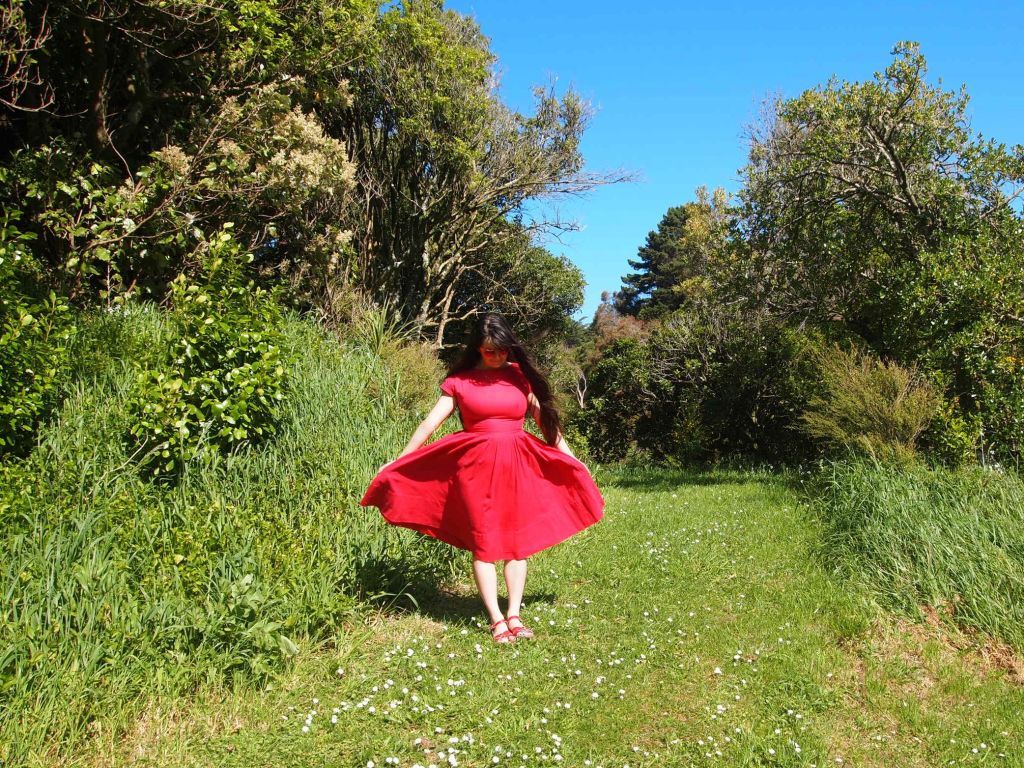 I have no idea why the colouring in these two photos is so drastically different? It's weirding me out. I've been experimenting with wearing only one colour lately. It is really easy because you don't have to worry about anything going with anything else - red goes with red. Done. Bam.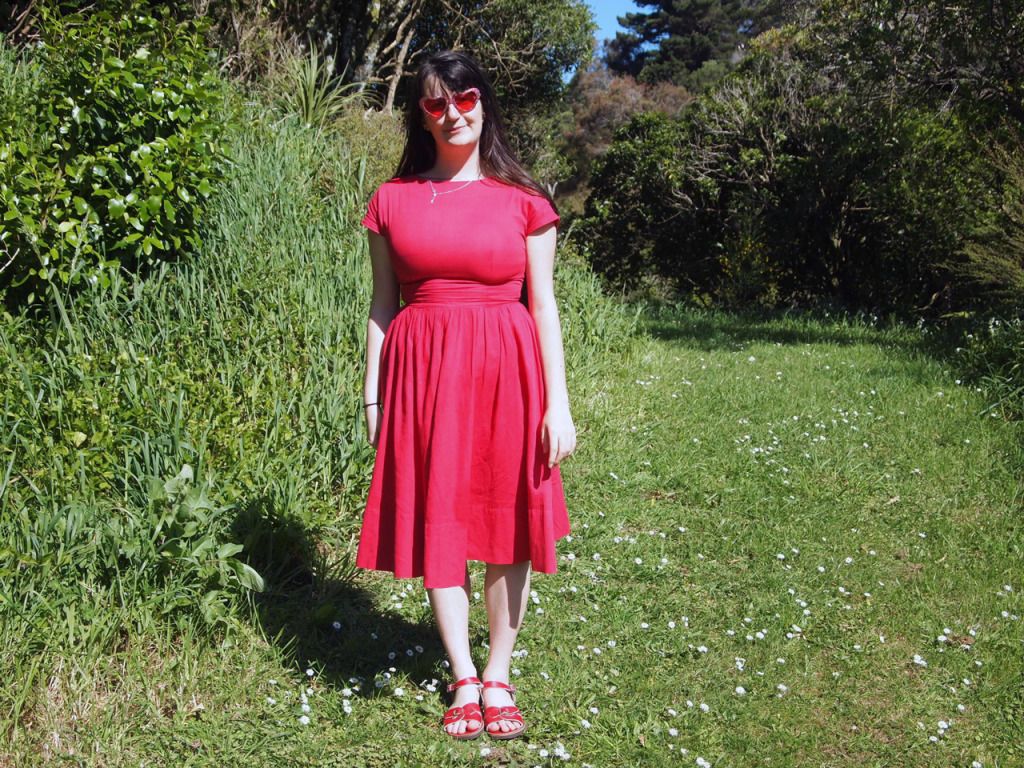 I'm wearing this great 1950s red day dress, opshopped red roman sandals and red glittery heart-shaped glasses from a costume shop on eBay. These leave glitter peppered all over my face, and then in my bed, then all over everything I own.
Also, you know how I mentioned living in the bush?
Our home is somewhere in there. Also, if you haven't already entered the Wildfell Hall giveaway you have until tomorrow, so get onto it.